{Note: The Madonna Timeline is an ongoing feature, where I put the iPod on shuffle, and write a little anecdote on whatever was going on in my life when that Madonna song was released and/or came to prominence in my mind.}
PUT YOUR HEAD ON MY SHOULDER BABY
THINGS CAN'T GET ANY WORSE
NIGHT IS GETTING COLDER SOMETIMES
LIFE FEELS LIKE IT'S A CURSE
Water. It's a natural element that Madonna has employed as a motif in various manners over the years. For her 'Cherish' video she went all wet and beachy-keen cavorting on the California coast to a trio of mermen brought to life by the magnificent Herb Ritts. A few years later she got even wetter, in lyrical and literal form, for the 'Rain' song and video off her "wet and a mess" 'Erotica' album.
Water is life, and Madonna turned to it when she needed to bathe in forgiveness and redemption. The 'Secret' video featured a baptism of sorts, while 'Take A Bow' showed her as font of sadness, pouring forth salty tears from mascara-stained eyes. Water flowed through her gorgeous and dream-like 'Bedtime Story' video, yet all of this was but a hint of the flood to come.
I CAN'T CARRY THESE SINS ON MY BACK
DON'T WANT TO CARRY ANY MORE
I'M GONNA CARRY THIS TRAIN OFF THE TRACK
I'M GONNA SWIM TO THE OCEAN FLOOR
CRASH TO THE OTHER SHORE
SWIM TO THE OCEAN FLOOR
1998's 'Ray of Light' album was drenched in the stuff. From opening track 'Drowned World: Substitute for Love' (and the similarly-monikered tour that later followed) to the rain-matted finale 'Mer Girl', Madonna said she only realized in retrospect how much water imagery there was on the album. It's there in 'The Power of Goodbye' video, in the salty tears of her eyes or the salty water of a devouring ocean. William Orbit's production also had a very liquid feel to it, with Madonna nicknaming him 'Billy Bubbles' for the various sound effects that he produced, lending everything a lusciously shimmering quality, reverberating with fullness and bubble-like beauty. It held dangers too, like water itself. A life-giving force, it could also take as much away.
CHILDREN KILLING CHILDREN WHILE THE
STUDENTS RAPE THEIR TEACHERS
COMETS FLY ACROSS THE SKY
WHILE THE CHURCHES BURN THEIR PREACHERS
WE CAN'T CARRY THESE SINS ON OUR BACK
DON'T WANT TO CARRY ANYMORE
WE'RE GONNA CARRY THIS TRAIN OFF THE TRACK
WE'RE GONNA SWIM TO THE OCEAN FLOOR
CRASH TO THE OTHER SHORE
SWIM TO THE OCEAN FLOOR
"Tell the rain not drop," she pleaded in 'Don't Tell Me', the last water reference she made for a few years, but soon it returned, like a spring rain. It played a part in her 'Sticky & Sweet Tour' performance of 'Devil Wouldn't Recognize You' and the 'Here Comes the Rain Again/Rain' intro. Even as recently as her last album ('Rebel Heart') Madonna has invoked the multiple meanings of H2O, particularly in 'Holy Water' and 'Wash All Over Me'. In 'Devil Pray' she laments, "I've been swimming in the ocean, til I almost drowned." It's fertile artistic ground, and she'll likely keep going to that well until it runs dry.
LET THE WATER WASH OVER YOU
WASH ALL OVER YOU
SWIM TO THE OCEAN FLOOR
SO THAT WE CAN BEGIN AGAIN
WASH AWAY ALL OUR SINS
CRASH TO THE OTHER SHORE
I CAN'T CARRY THESE SINS ON MY BACK
DON'T WANT TO CARRY ANY MORE
I'M GONNA CARRY THIS TRAIN OFF THE TRACK
I'M GONNA SWIM TO THE OCEAN FLOOR
CRASH TO THE OTHER SHORE
SWIM TO THE OCEAN FLOOR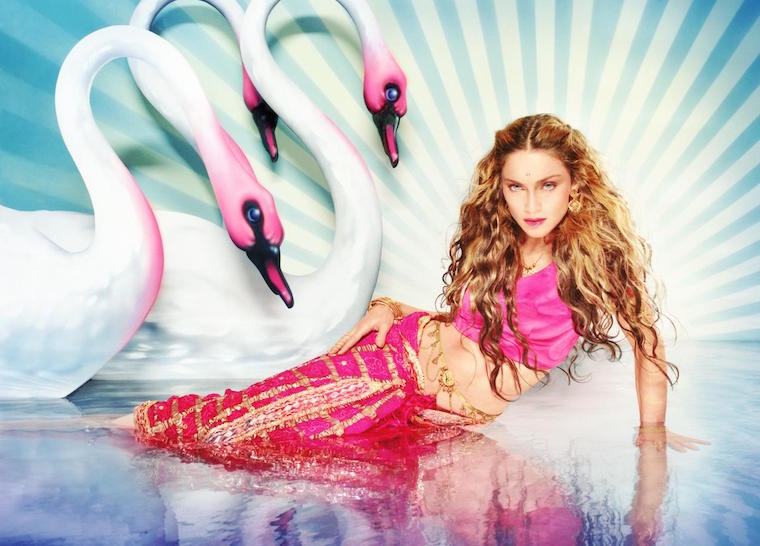 SONG #137 – 'Swim' – Spring/Summer 1998
Back to Blog