My friend and co-worker Lorie, having heard of my unsuccessful quest for a pomegranate, brought one in from her recent excursion to Trader Joe's. Until we get one of our own, that appears to be the closest supplier of the elusive fruit.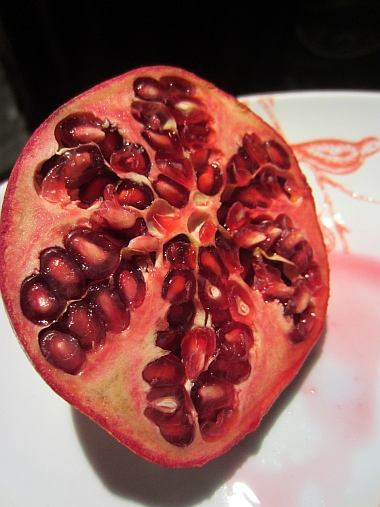 Price Chopper had rather rudely tweeted to my husband that it is no longer the season for pomegranates, and even the Fresh Market was out. Lorie mentioned that Ryan's Produce might have some, so we may try that next. For now, we have this one glorious specimen – the perfect pomegranate – and I couldn't wait to dig my fingers in and extract the little globules of goodness.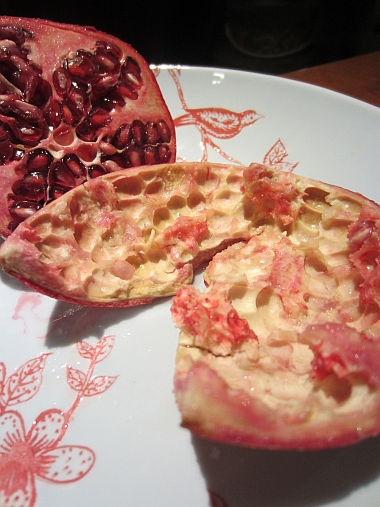 My friend JoAnn was the one who got me hooked on pomegranates. She said the best way to remove all the seeds was to cut it in half and submerge the fruit in a bowl of warm water. This prevents the blood-red juice from any broken seed pods from staining your skin, while allowing for easy separation from the surrounding membrane, which floats to the surface.
A ritual that involves a bit of work for a reward is a good past-time for the winter, and there is indeed something cleansing and calming about separating seed from flesh beneath warm red water.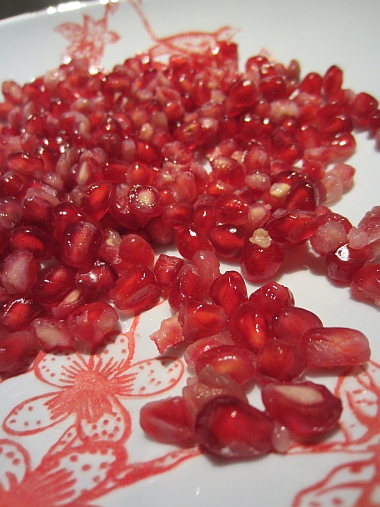 The end result is a pile of sparkling ruby capsules, each one ready and waiting to burst open in the mouth like some refreshing pop of tart candy. Someone likened them to champagne, which I could just barely make out. They really are their own animal, to which I've already grown a fond attachment. Now if we could just find a decent supplier in the local area…
Until then, their elusiveness adds to their appeal.
Back to Blog