It's summer, and time for meals that don't involve the oven or stove-top. In this instance, I made a Waldorf chicken salad. (If you buy a rotisserie chicken there's no need to heat up anything.)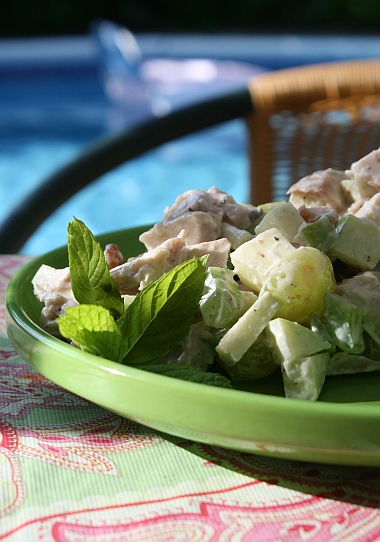 Here's the recipe – I will follow it with my variations:
Ingredients:
2-4 cups rotisserie chicken, shredded
1 cup chopped Granny Smith apple
1/2 cup celery, chopped
1 cup green seedless grapes, halved
1/2 cup walnuts, chopped
2 tablespoons mayonnaise
2 tablespoons sour cream
1 teaspoon lemon juice
Salt & pepper to taste
Directions:
1. Mix all fruits and vegetables together
2. Toss lightly with lemon juice
3. Stir in walnuts, chicken, mayo and sour cream.
4. Add salt and pepper to taste.
5. Cover and refrigerate at least two hours to meld flavors.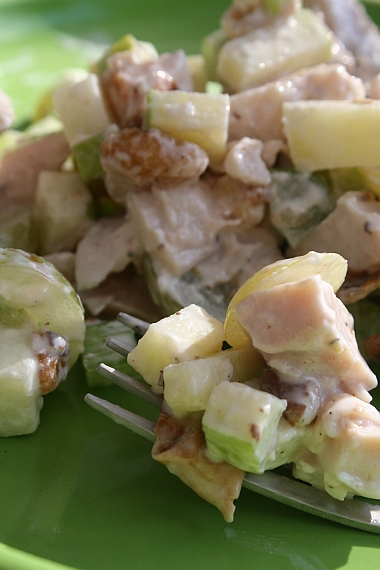 It's really a recipe that involves chopping and assembling, no culinary expertise needed. I substituted plain yogurt for the sour cream and used a bit more than two tablespoons. (Which allowed me to use less mayo as we were down to the bottom of the container.)
I also added the fresh lemon juice earlier, sprinkling it onto the apple as soon as it was chopped (it will prevent the apple from turning brown – which happens sooner than you think). A small sprig of mint from the garden works well as a garnish. This is the quintessential summer dish, but because of the mayo be sure to keep it cool.
Back to Blog