Last week I attempted to cook a Filipino dinner ~ adobo, pancit, and baby bok choy. (Inspired partly by an adobo recipe and story that appeared in the New York Times, as well as fond family memories of the dish.) All but the pancit turned out exceptionally well – the pancit was slightly disappointing because I couldn't find the Chinese sausage that my Mom uses in hers, and the chorizo substitute lent the dish a more smoky flavor.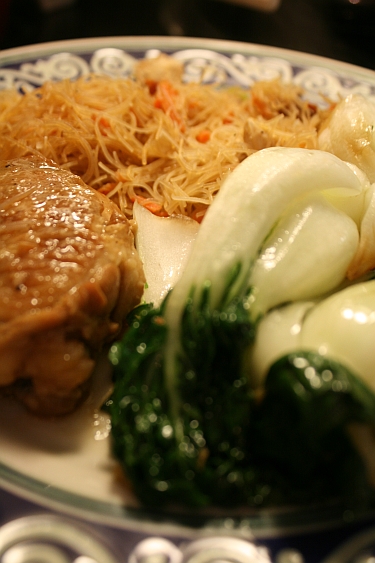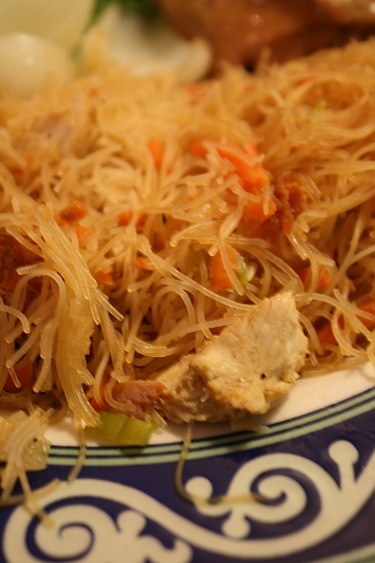 The kitchens of my aunts, and the crowded houses of extended relatives, always revolved around one thing: food. My favorite childhood memories are of those special gatherings that were crowded with family, crowded with love, and crowded with Filipino food. Several women occupied the kitchen, cutting up vegetables, frying something on the stove-top, shoving dishes into the oven. It was a maelstrom of culinary activity, with insanity and raised voices, and I loved it all.
My own parents would create the same excitement when we had family visiting, whipping the kitchen into its own fun frenzy of food, culminating in dinner each evening, where we would quickly eat then hide under the dining room table or scurry off to play with our Uncle.
Since losing my Aunt and Uncle, cooking Filipino food is one way to keep them close to me. It's never quite the same, but if I close my eyes, breathe in the steam coming from the dishes, and listen to the sounds of the kitchen, I can almost hear the Tagalog again.
Back to Blog