This is my current summer fragrance – Grand Neroli by Atelier – as seen surrounded by a few sprays of a wild sweet pea (fresh from the garden). This cologne has the distinctive orange blossom scent of Neroli, that is both light and delicate enough for summer. I debated getting Eau d'orange verte by Hermes, but held off on that due to reports on poor sillage. I may try their Eau de Pamplemousse Rose next June, but since we're almost into July the rose cusp has long since passed. It's better to be ahead of the curve than behind it.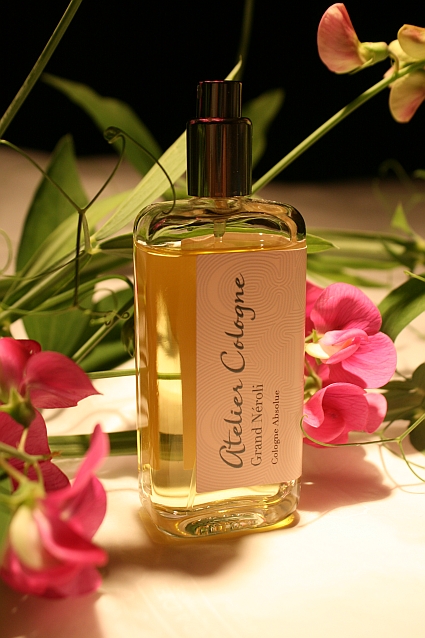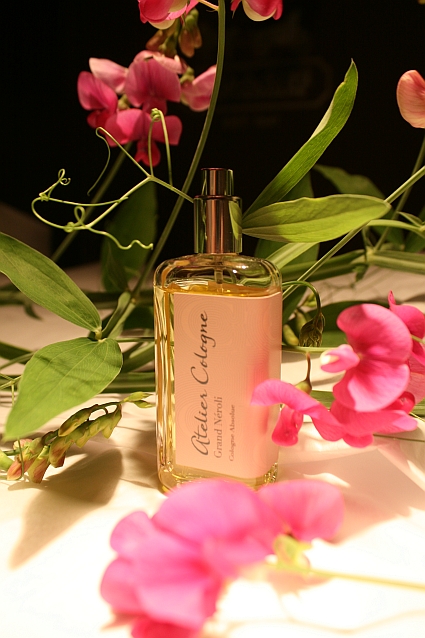 Much like Lee Bailey's substituting Digitalis for delphiniums (a cocktail to anyone who knows the reference – yes, I still owe Mike and Sean – I'm keeping track), this was the closest I could get to Tom Ford's Neroli Portofino from his Private Blend series (and about one third of the cost). Mr. Ford's version of Neroli is the only one of his Private Blend series that I would consider a good fit in the summer months – the rest of that line is too wonderfully rich and heavy, in a good way, but far more suited to Fall or Winter. In the summer I want my cologne to be light – the heat can be heavy enough. Coupled with the hefty price tag, Ford's heavenly fragrance will have to wait.
It turns out that Atelier's Grand Neroli is more than a fine substitute, and may actually be preferable to TF, considering its lighter touch. I don't know why, but Neroli reminds me of various summer moments – the sound of cool, trickling water in an otherwise-silent space, the still bedroom in Boston as the sun slants across the floor, a sweetly-scented blossom floating in a snifter of water. The moments are half-remembered, half-imagined – like so much of summer seems once it's passed. For now, it's just begun.
Back to Blog