The day dawned bright and sunny. Kira and I slept in no later than usual, padding out to the kitchen by nine o'clock, and sipping on some Spicy Ginger tea. Only a bit of shortbread made up the rest of our morning meal, so full were we from the night before. Groggily, we recounted the previous evening's chow-down, and vowed to order less the next time around. But it was worth it, we agreed. It's always worth it with a friend.
I presented my loose itinerary to her, with a few of the requisite stops to find some holiday gifts (I realized I still had some gift-buying to do for my family and friends). After walking through the Prudential Center and Copley Place, we turned up Boylston and found things for the twins and my boss, at Marshall's and Nordstrom Rack. (Hey, if you can't get economical with a three-year-old, how can you save anything at all?) After that, we walked through the Boston Public Garden, whereupon we met up with this fuzzy fellow and his compatriots, flirtatiously jumping about our legs hoping for a treat to drop from our hands. There were no treats to be had today, but he posed for this photo anyway.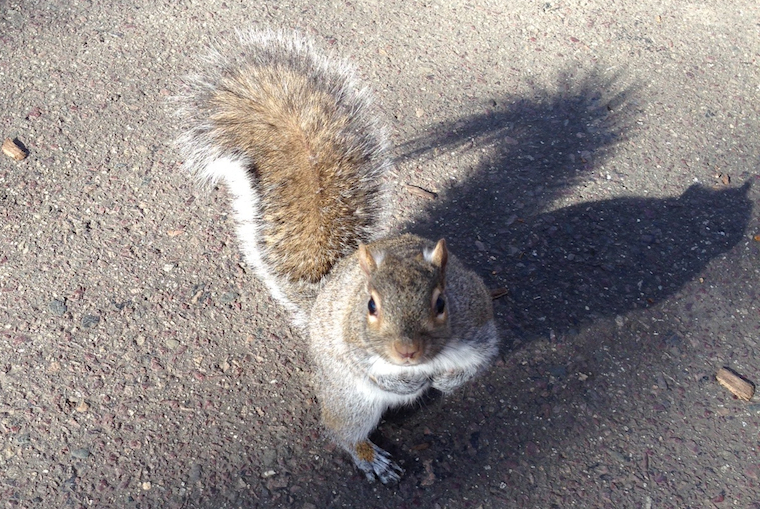 Exiting the Garden, we walked along Charles Street, peering into the antique shops, and almost falling prey to a Christmas-tree-adorned pair of bright red corduroys, before I realized that I just couldn't get my head around corduroy (or its accompanying $198 price tag ~ poor-man's-velvet my ass). We were both getting a little peckish at this point, but before heading to a Thai place I had in mind, we made a slight across-the-street detour to The Liberty Hotel, and their whimsical upside-down Christmas tree presentation.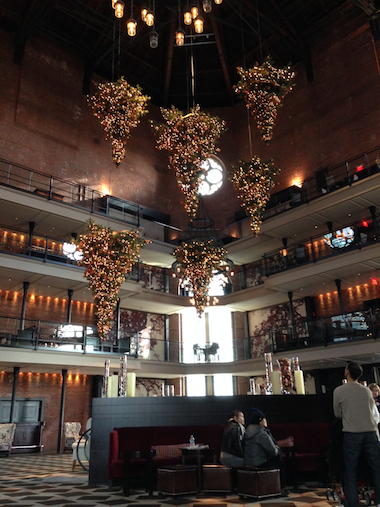 We'd first stopped here on an earlier Holiday Stroll – quite by accident, when our feet wouldn't take us any further. The best place for a brief respite is a hotel lounge. When it happens to be a hotel as elegant and interesting as the Liberty (a former prison), that makes it all the more merry – as did their weekend Bloody Mary bar, which came with all the fixings and then some (I saw ingredients I'd never have thought to invest in a Bloody). Though it was after noon, I passed on a drink (despite those pesky rumors of alcoholism, and the wonderful set-up before our eyes).
Instead, we took off our coats, found a pair of winged arm-chairs, and settled in for a chat and some ogling of what looked to be several hockey players. Unfortunately, I couldn't pick out a Boston Bruin from a ceiling fan, so I can't verify who anyone was, and my text to my brother didn't reach him in time.
After a few minutes of relaxing, and an indulgent bathroom stop to wash my hands with their Molton Brown Thai Vert soap, we headed back out, turning in the direction of Government Center. There used to be a Thai restaurant along the way near the foot of the street where I first kissed a man, but it was no longer around. Disappointed (I was fiending for some Pad Thai, and so was Kira) we changed tactics, hoping for some fish-and-chips or raw oysters at the Union Oyster House. As always, it was too crowded, so we fought the crowds at Faneuil Hall and made our way to the waterfront, where The Chart House stood, and which we figured would be decidedly less busy. The journey was riddled with holiday cheer, however, and it's impossible to be too angry or annoyed with people when they seem so happy over the season, the holiday decorations, and the sunny day. I listened and smiled as strangers wondered at the enormous tree before us.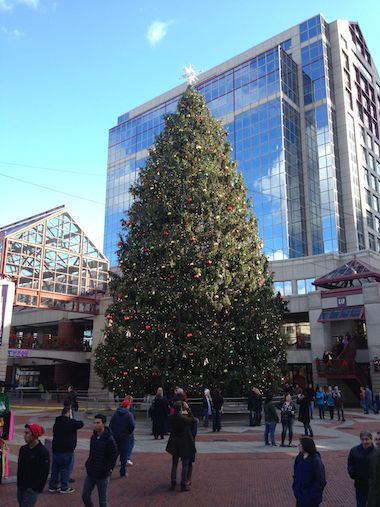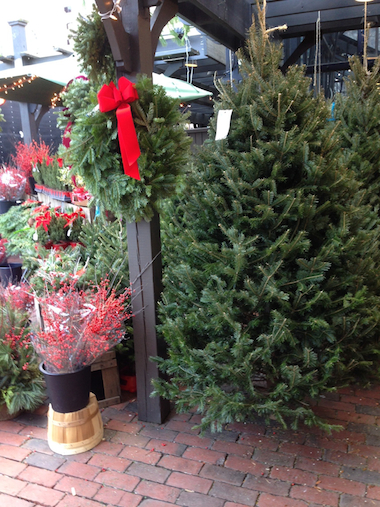 After lunch, we braved the more treacherous crowds of Downtown Crossing to find my Mom a gift at Macy's, which we managed just as the crowds were surging. We found a cashier and finished up before the lines suddenly appeared. The day was dimming. I was undecided about taking the T back or walking, but Kira suggested the walk, so we went along Boston Common, and the beginning of the Freedom Trail, stopping to see the skaters on what I think is called Frog Pond.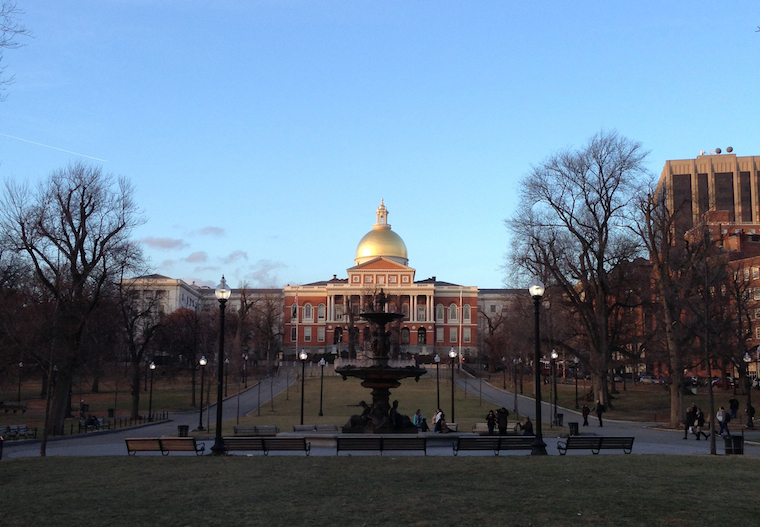 While you'll never get me on a pair of ice skates, I loved watching the people whiz by (or barely stumble by, depending on skill level). It was the perfect holiday postcard, a cross between Currier & Ives and Norman Rockwell, and as bitter as you all want to believe I am, I still get happy at the holidays because of scenes like this.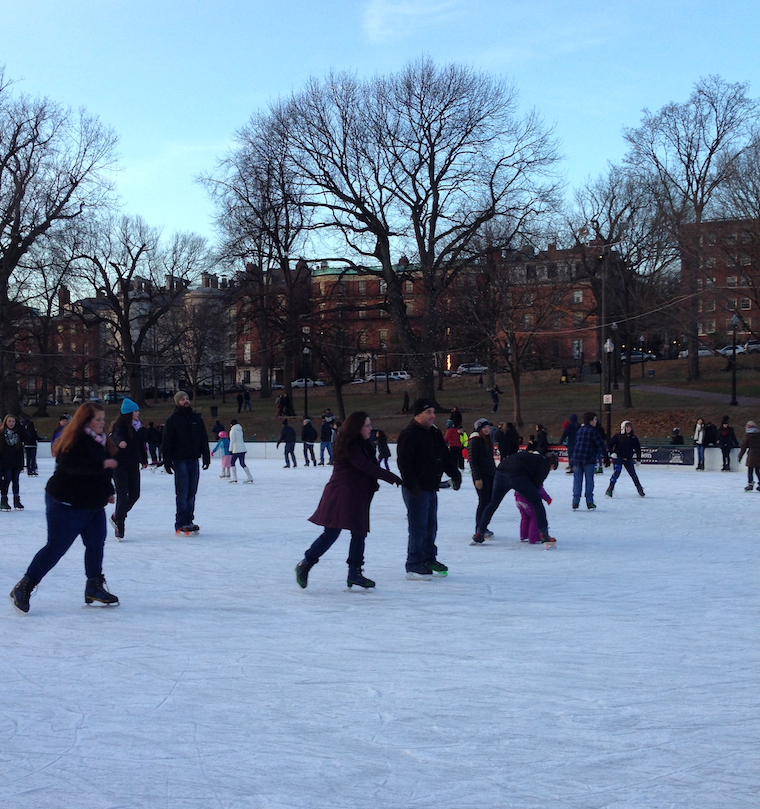 We did not stay long. The evening was approaching, and the temperatures were dropping. A rough wind picked up a bit before our final stages of this year's stroll, and we meandered along a few Newbury Street shops as the sun went down behind the city. By the time we reached the condo, it was dark. We sat for a bit recounting the day's events, considering it a tradition worth carrying on. I walked Kira to the T station and hugged her good-bye.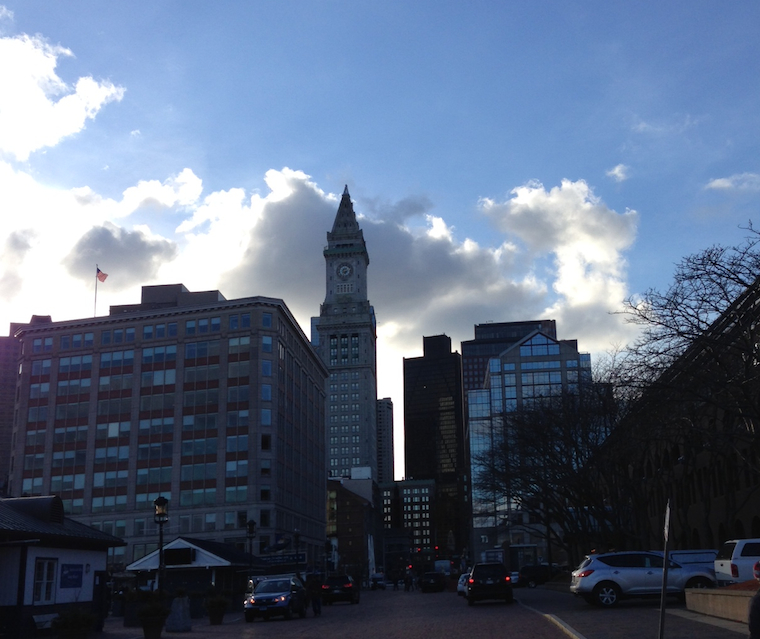 That night, I crawl into bed alone, thinking of what great, good fortune it is to have friends like Kira in my life. I'm far from a perfect son, I'm far from a perfect husband, I'm far from a perfect person, but I am a good friend. And my friends – the good ones – have become my family. Sometimes that's what you need to do to survive, to stay warm in a world that can too often be cold and cutting. We can choose our family – they're the people we decide to surround ourselves with, the ones who are there for everything and who love us unconditionally. That kind of love never wavers, never fades no matter what mistakes you make, never dims no matter who you become and no matter how less-than-perfect you are. Thank you, Kira, for a wonderful weekend. I'm already looking forward to next year – and maybe by that time our stroll will begin in my own backyard.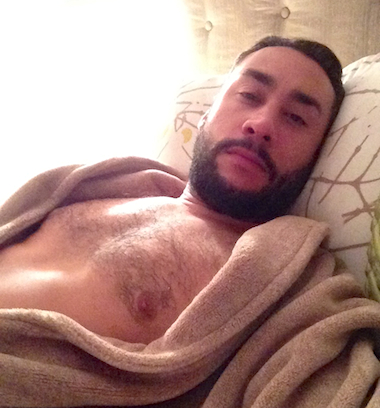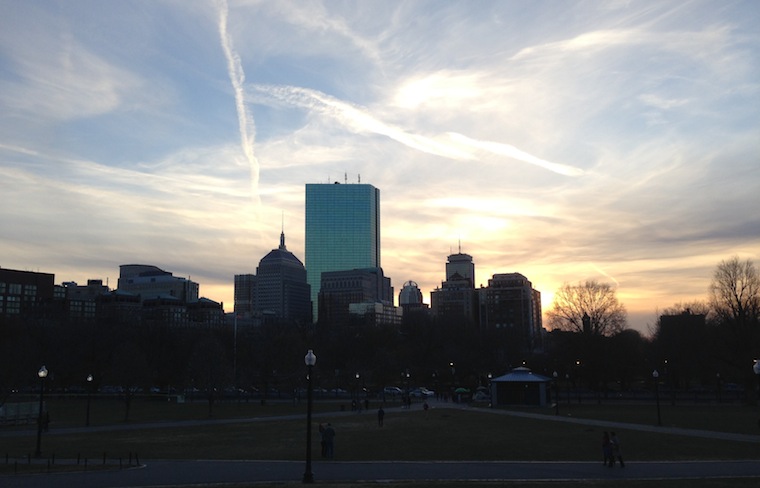 Back to Blog