First, a disclaimer: I'm not an expert on scones. For the most part, I avoid them, as they all too easily turn out dry and dull. A number of years ago I found myself in a pinch at an Au Bon Pain, and I tried one of their orange scones, which had a delicious orange glaze (if questionably bright in color), but the scone itself was dry and brittle, crumbling in the worst possible way, and made only half edible by its glaze. Since then I've tended to stick to a muffin or a croissant if I need a dose of carbs for breakfast.
This past weekend, however, I found myself at one of the South End Buttery satellite locations (which was pleasantly less jammed early in the morning than its popular flagship residence), and a chocolate orange scone was calling out my name. Based on the fact that every single thing I've ever had at the Buttery has been out-of-this-world good, including their scones, I ordered one (and a chocolate chunk cookie, just in case). It is another secret of Boston that I hesitate sharing because I want it all to myself.
Here was a revelation. Here was a scone that managed to be moist and flavorful, with just the right consistency of crumble to it. The chocolate mixed divinely with the orange – always a favorite combination of mine – and the multitude of tiny air pockets kept things light and less dense than most other scones I've had. Which isn't to say it wasn't substantial – it was – but in the best possible way. I sat in the window, slowly enjoying every bite, watching a sunny Sunday morning leisurely unfold in the South End.
I might have to go back to Boston next weekend just to get another.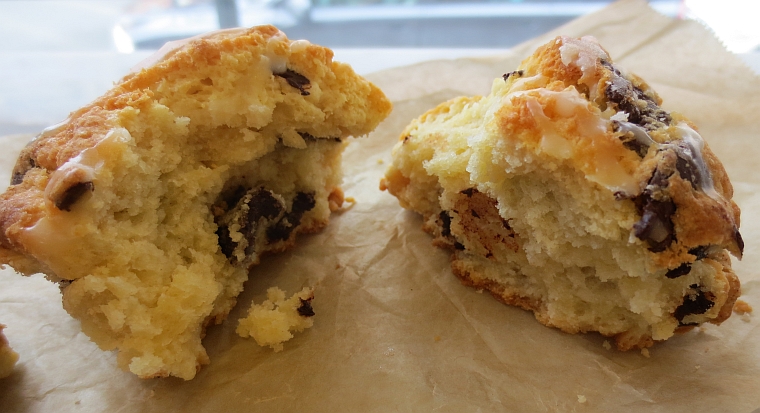 Back to Blog