This was our first night game since we started making these trips a couple of years ago. I think I liked it better than the ones during the day. The sky and descending sun made for a beautiful beginning, and with a bit of time to spend before the game, we ducked into the Verb Hotel and its Asian-inspired bar area.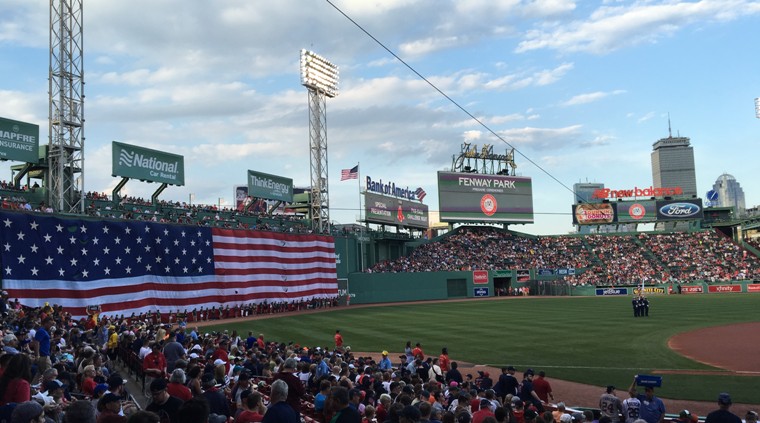 I'd also wanted to try a dinner here, and we'll do one next time because it's a great spot, but on this night it was just cocktails. On a screen near the back, 'The Karate Kid' was playing – a bit of 80's nostalgia to open up the childhood memory bank. Back then, I think I was hungry for friendship. And adventure. Three decades later, I realized I had found a bit of both. Skip explained how his Mr. Miyagi healing moves always calmed his kids when they thought they were hurt, and he rubbed his hands together to illustrate. Silly and sweet at once.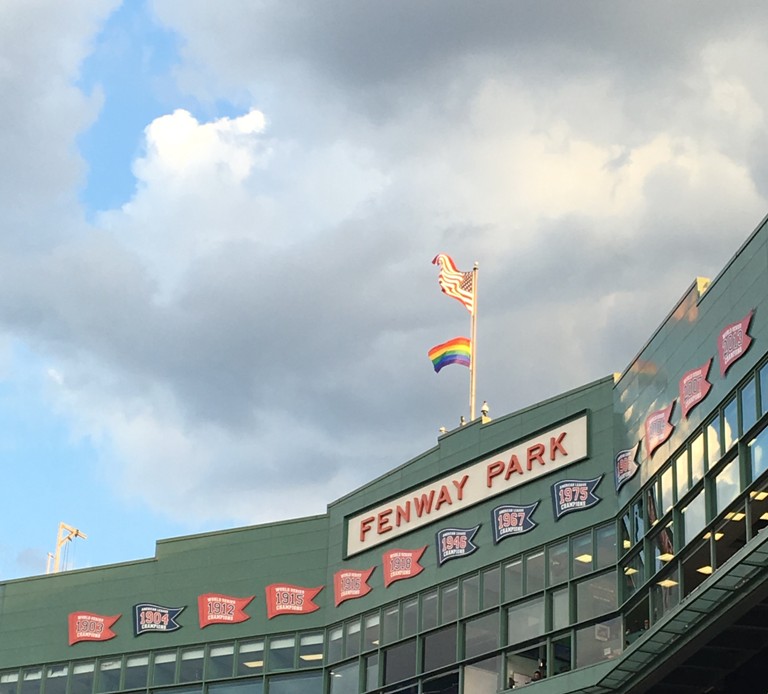 Earlier that day, in an unguarded moment of fear and celebration of the future, I'd said to Skip, "I hope we still do this when we're 80."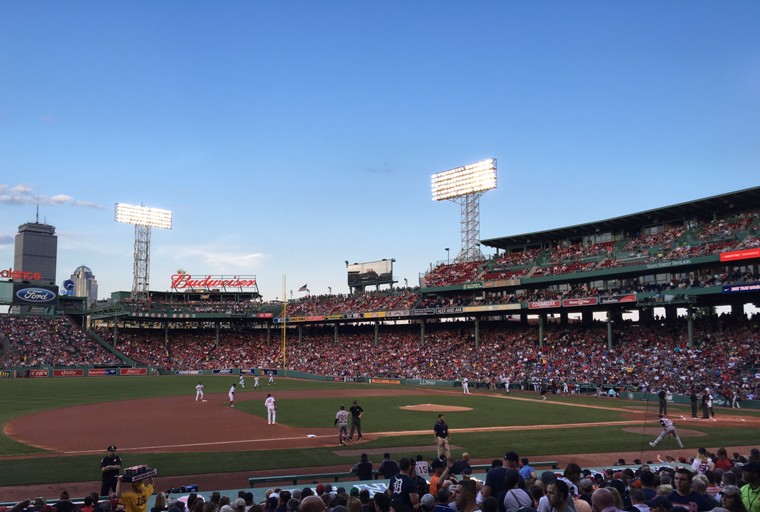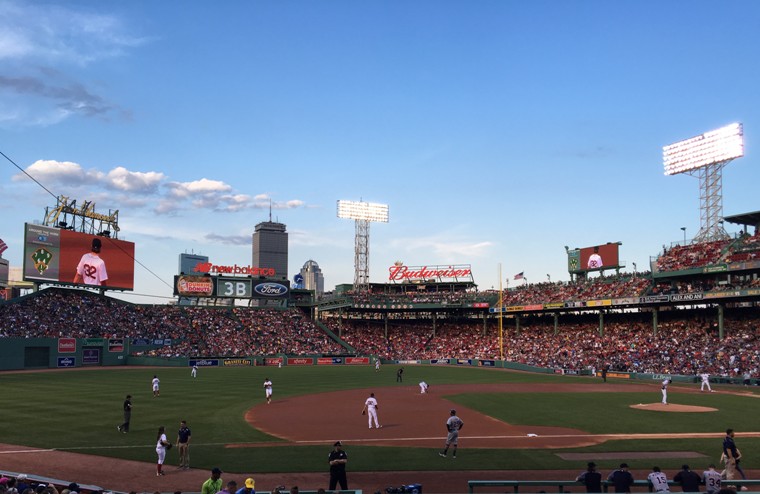 As the sun began to go down, Fenway Park was resplendent in the golden hour. A brilliant sky, filled with non-threatening clouds, hung before us, and the Prudential Center rose in the distance. A home away from home away from home.

And once again, the unstoppable march of time, clicking away as the light in the sky dimmed and the lights in the park came up. It was surreal, and the beer added to the experience, as it tends to do. I'm not a big beer drinker, but when in Rome…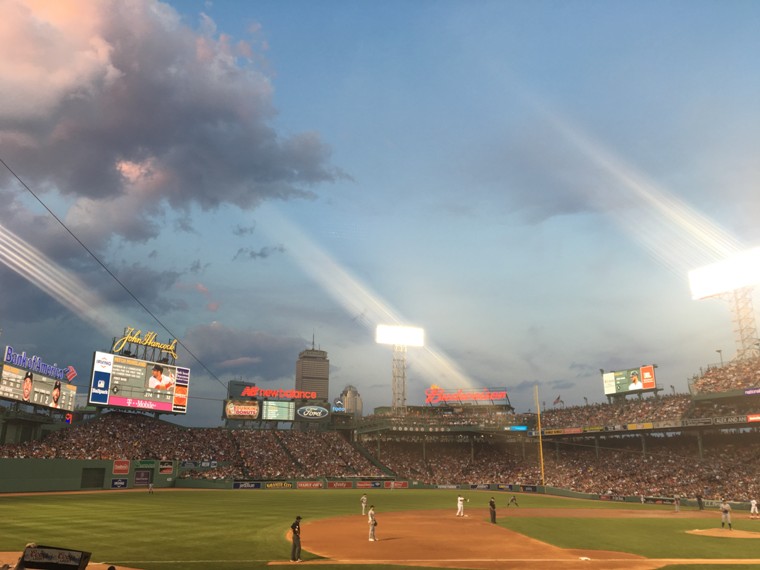 All that beer necessitates a bathroom run at some point, and I wound my way down the stairs and into the surprisingly efficient facilities. Back in the bright light of the park, I tried to find my way back to our seats, but overshot them by a few rows. Somehow I missed half of our row standing up for me when I got back. A number of them were laughing – most notably Skip and myself – and the nice woman to my right smiled as I brushed by her and found my seat. I had just taken a bug gulp of beer when I looked over and found her still smiling, which for some reason cracked me up. I immediately did the sort of spit-take that I've only ever seen in stupid movies and sitcoms, spewing beer all over the four people in the row in front of us. That didn't do much to quell my laughter, but the two guys who go the brunt of it were NOT amused. I apologized as best as I could, but no one liked that sort of thing. (Having been on the receiving end of such bad behavior, I know.) The young lady in the sleeveless shirt to my lower right was a much better sport about it, saying that we now had a story to tell people. I was mortified, but couldn't stop laughing. And she was right, because here it is for internet posterity.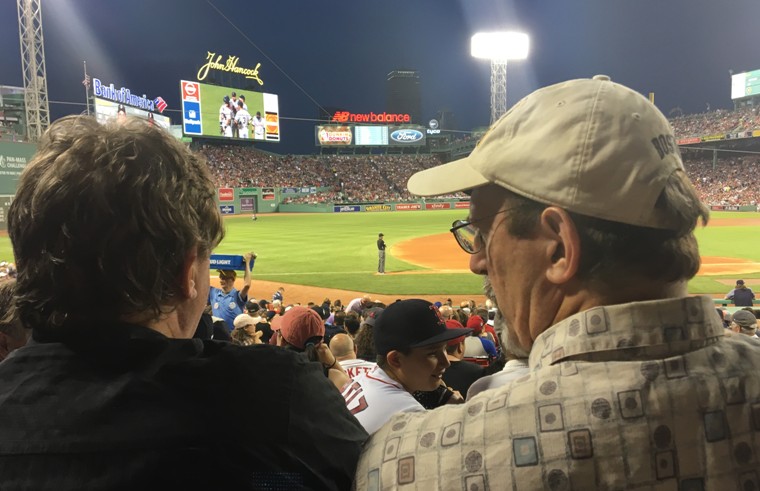 (Don't they look fun?)
The Red Sox worked wonders on the field, handily defeating the Tigers 11-3, so perhaps we're a good luck charm for them. Something their manager might want to consider should they make it into the World Series. (I'd prefer to sit in one of those glass boxes at some point in my life.) As for the denouement of our game day, we walked back toward the condo, picked up a couple of pieces of pizza, and called it a night. It was just enough, and exactly what was needed at such a time. Thanks to Skip, and Sherri, for making it all happen.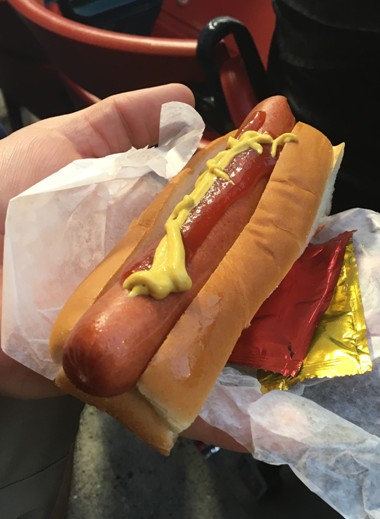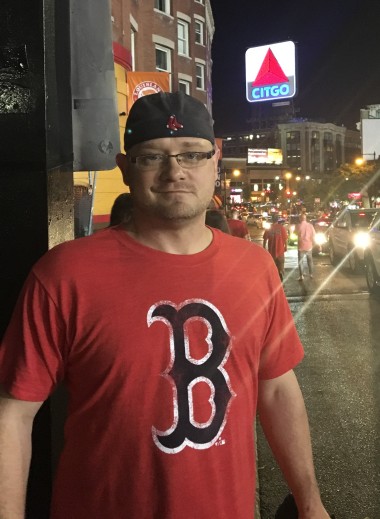 Hot diggety dog.
Back to Blog