Pizza was ordered, a submarine sandwich arrived, and either an American Express card or a tantrum was thrown on the kitchen floor, but that's all in a night in Boston. A brief sleepwalking bout and a late-morning rise done, we made our way into the city to procure a treasure: Andy's wedding ring, which was at Shreve, Crump & Low for resizing.
The city was in the early stages of Pride week, with rainbow flags billowing from the Public Library and events starting to shape up in celebratory fashion. The previous evening had been the Red Sox Gay Game, which, had we known in advance, would have been a great game to attend. But we were installing things at that time, so the Saturday game would suffice.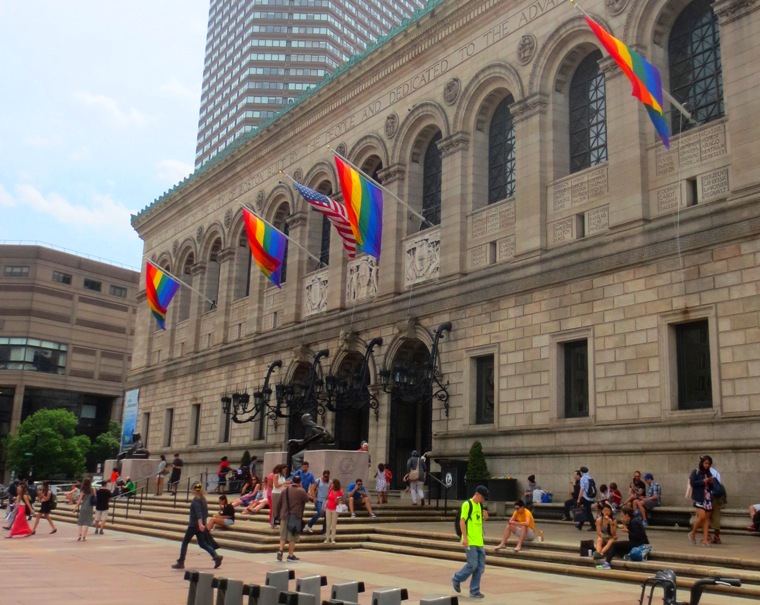 First, however, was an inaugural ride to the new Government Station T stop. What once was dark and dank and decidedly dreary was now flooded and filled with light. A troop of Filipino dancers, none older than twelve or thirteen, awkwardly moved in a circle formation, resplendent in traditional festival garb. The whole city, it seemed, was in the mood to dance.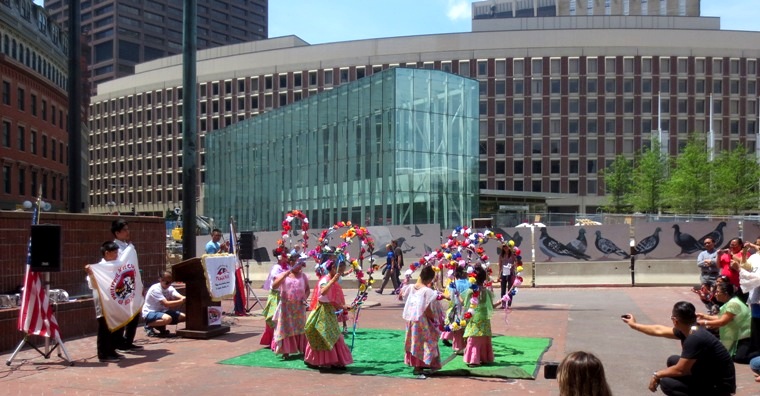 I hadn't been to Faneuil Hall in a while, but since it was a favorite stop for Skip we walked across its cobblestones and ate an early lunch beneath its historical dome. A tutorial run-down of the famous-in-certain-circles cute guy at the Chipyard, and the resulting bag of chocolate chip cookies, gave us impetus to walk back to the condo. The day was still early and bright, and the walk was brisk but easy.
There was even a bit of time left over for a quick nap. That's what men on the verge of middle-age do.
The game itself was a grand one. The very first professional baseball game I'd ever seen, way back in 1986, had been the Boston Red Sox vs. the Toronto Blue Jays. Since that day, both teams have held a special place in my heart (with the Red Sox obviously trumping the Jays, which is exactly how the game played out after an early inning volley that saw both teams trading a run or two until the Sox pulled ahead and pulled it off). We left with a crowd in high spirits, walking back along Boylston before a sushi dinner.
Having spilled most of my fun-and-energy reservoir the night prior, I had no objection to returning to the condo for the night. Neither did Skip, who wanted me to try out his Oculus. This is what it looks like on him. Which means you're never going to see how it looks on me. As ridiculous as I may have appeared, the thing was pretty cool, and Skip knows how to call the future, so get ready for this on everyone.
The next morning we woke to rain. It was light at first, and we managed to load the old air conditioner into the Mini Cooper without incident. The rain grew heavier as we traveled westward and into New York State. Skip recounted the high school prank that he and his friends had pulled off during their senior year. It was, in so many respects, the perfect sort of prank – harmless but funny, safe but entertaining, not the least bit irreparable, but wholly unforgettable. That's all I'm going to say about it, as it's his tale to tell. What I got out of it was a new insight into a friend I suddenly realized I'd known for over ten years.
There, at the tail-end of our Red Sox weekend, was the kernel of friendship that formed the heart of the trip for me. Not the excitement of a win against the Blue Jays, not the fun and laughter of a gay bar crawl, not the successful installation of a summer-saving air conditioner – but the deeper connection to a friend, and a better understanding of the boy he used to be.
Back to Blog