Most of my restaurant reviews are put on Trip Advisor, so I don't feel the need to post them here, but once in a while a really great steak will impel me to spread the word as far and as wide as possible – and since I can put uncensored stuff up on my own site, here is the racier version of our recent trip to Boston Chops: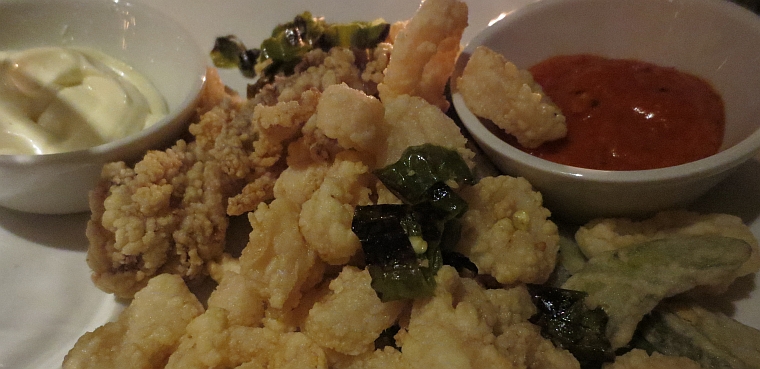 While some would have you believe in the old adage, "It ain't the meat, it's the motion", Boston Chops is proving that it's actually just the meat that matters. (Apologies to some of the lesser-endowed gentlemen – you know who you are.) This steak-house struts confidently into the South End culinary scene, drops its big dick on the table, and lets the diners look, savor, and feast. Brought to you by the masterful folks behind Deuxave and dbar, Boston Chops puts the meat up front and center, but supports it with a cast of colorful sides, lesser known dishes, and a beefed-up bar scene that offers unique and classic cocktails, along with an ample wine and beer list.
The serious meat-lover will find things they'd be vexed to locate at the average steakhouse, including the items found on their "Rarely Celebrated" list: Brined, Braised & Grilled Tongue, Roasted Bone Marrow, Crispy Oxtail Croquettes, Grilled Herb marinated Heart, and Braised Tripe. There are some serious side dishes as well, including a Pork Belly Mac & Cheese, Duck Fat Fingerlings with Lardons, and more traditional fare like grilled asparagus and Brussels Sprouts au Canard – though it's their "Poutine Style Twice Baked "Loaded" Potato" that is currently getting all the accolades (and at $12 it had better).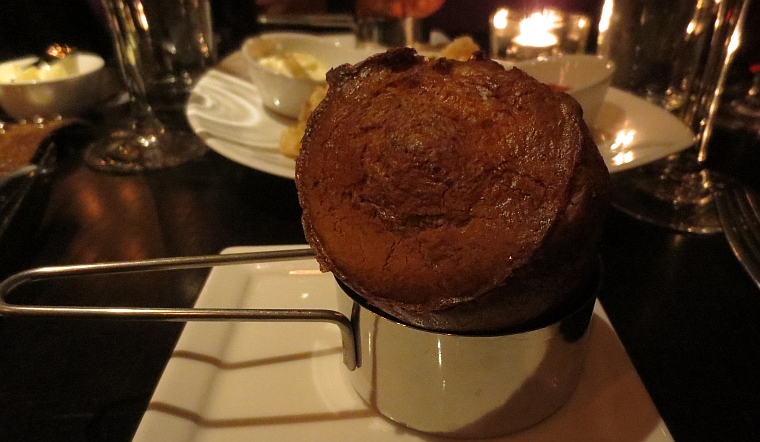 A flashy cocktail list offers several nifty twists on some classic favorites. The Chops Manhattan utilizes its own five-spice bitters (and a decadent Luxardo cherry), the Lime Rickey gets a Raspberry makeover, and the "Old Town" is their take on the Old Fashioned, with a Grip Rye, fig, and Black walnut backing it all up. Fittingly here, the red wines slightly outnumber the whites, but both are dwarfed by the long list of beers. A popover is provided to each diner – a rather retro offering, not unappreciated, but appropriately airy, therefore not as substantial as some diners may desire. Do not fret, though, because the heart of the affair is always in the entrée.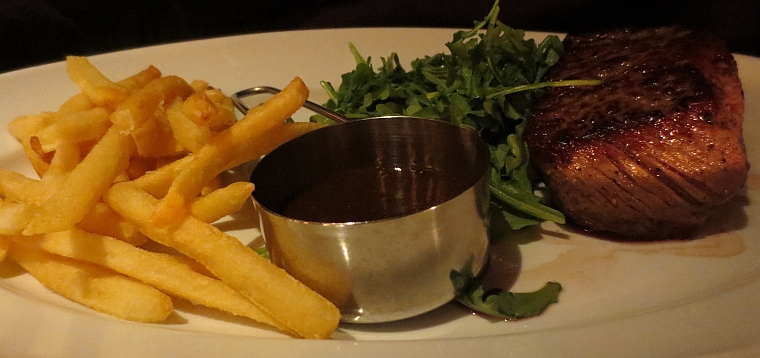 As mentioned, it's the meat that takes pride of place here, from a few 8 oz. cuts in the $25 range to the 22 oz., Prime Boston Chop, Bone in Rib Eye for $58. I settled somewhere between the two, with a Filet Mignon for $39. It was easily the best piece of meat I've had in a very long time – super succulent, tantalizingly tender, and perfectly rendered to a red, warm center. The plating is simple, almost sparse, as it arrives with only the steak and the seasonal greens. Servers with large bowls appear quickly to fill in the blanks with their "generous frites" (which they claim will be refilled, but on this busy night that never happens). No matter, the steak is more than substantial, and it is so good the rest doesn't much matter. In addition, all the steak sauces one could wish for are on hand to accompany your meal:  Boston Chops House (an amped up, tangy barbecue sauce with a bit more bite), Bordelaise, Bearnaise, Peppercorn, BBQ, Creamy Horseradish, and a Chimichurri Butter.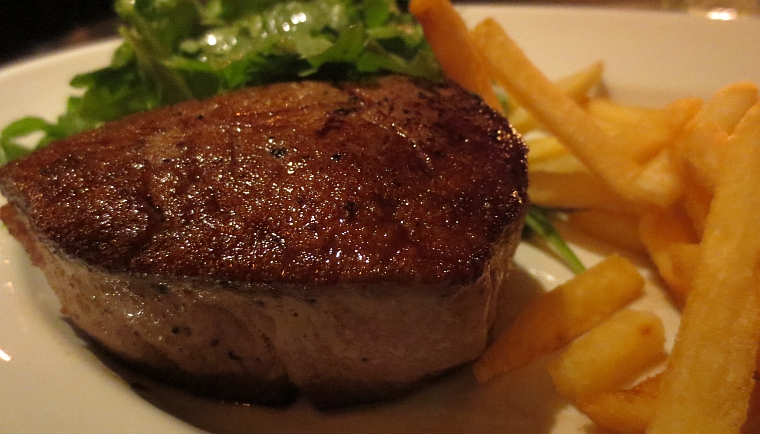 Service was decent, particularly on a bustling Saturday night, and if the water we requested took a little longer than expected, it was ultimately brought with profuse apologies by the server. While we overheard another server telling the table next to us that the steaks were taking a longer than usual to prepare, given the crowd, we experienced no such delay for our entrees. The check took some time, but again, the restaurant seemed to be operating at full capacity. Along those lines, the bar scene was loud and lively, so if you're looking for intimacy or simple conversation, don't go during peak hours. For a Saturday night on the town, it fit the excitement level perfectly.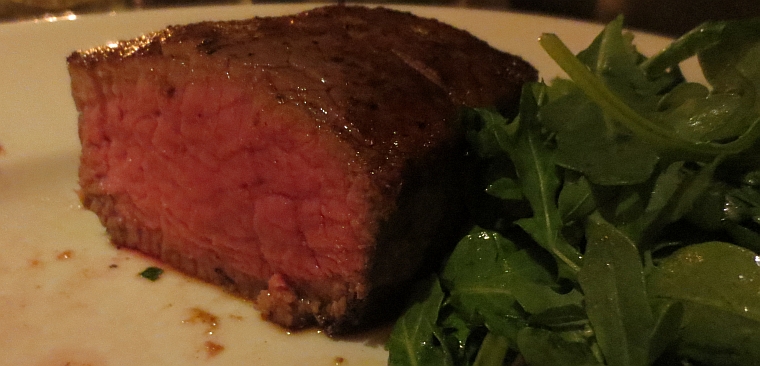 I don't frequently return to the same restaurant so soon, but I will definitely be going back to Boston Chops in the very near future, as there were too many cocktails and interesting sides to try in just one sitting – and that kind of meat just can't be beat.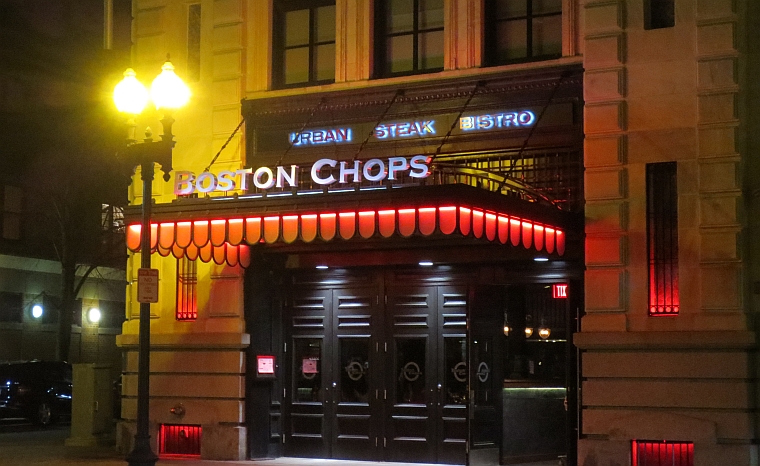 Back to Blog