It all had to be done with the greatest of care and the strictest of confidences. While good at keeping secrets when explicitly asked to do so, I am less good at not spoiling the surprise aspect of things that are too fun to keep secret. As Andy is turning 50 this weekend, I wanted to do something extra-special for him. Knowing that a surprise party was out of the question, and out of the realm of anything he would enjoy, I hatched a plan that would capture him by surprise, but also (fingers-crossed) be something he would love.
For our annual trip to Ogunquit, in which we usually depart on the Monday following Columbus Day weekend, I secretly reserved our room at the
Ogunquit Beach Inn
for two extra nights. I managed to keep it a secret until that Monday, when I woke him, and he groaned with the displeasure of having to leave such a wonderful place. The day of departure is always a very depressing moment, so it was with great happiness and excitement I handed him two new outfits and said that we would be staying for two more days in honor of his birthday. I actually got him to crack a smile (far more than the usual reaction that something as big as a pool table would normally elicit) so it was a success.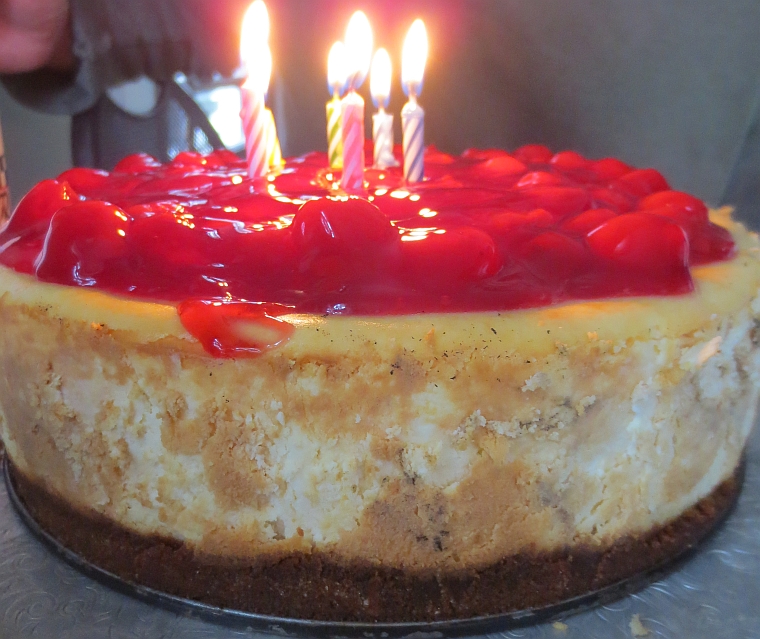 To go along with the pre-birthday surprise, our innkeeper Mike made this magnificent cheesecake in his honor. It was delicious, and miraculously gluten-free (I'll need to get the recipe for my friend Missy – I'm told ginger snaps are the secret for the crust). We shared it with a couple of other guests and friends, and pulled off the perfect little celebration for someone who doesn't like a big fuss. (For those wondering, his actual birthday is October 20. I'll be accepting gifts in his honor. I know he loves the Tom Ford Private Blends collection. What?)
Back to Blog