While it's always been a dream of mine to hoist a sledgehammer Miley-Cyrus Wrecking Ball-style and do some serious demolition like some of the homeowners on HGTV get to do, the reality of the situation is that no one wants me to be in such a position. I'm a creator, not a destroyer. To that end, my contribution to the kitchen renovation is not a thrown-over shelf or a torn-down wall, but a new set of curtains and reupholstered dining room chairs.
Yes, in addition to crocheting and oboe-playing, one of my secret skills is sewing. Well, sewing curtains at least. I can thread a sewing machine and set it spinning, provided just a simple stitch and a straight line are required, as was the case with the panels I crafted with some fabric from Calico Corners.
I still remember the day in 7th grade, when our Home Economics class (is there still such a thing?) was learning how to thread a sewing machine and sew a few lines of stitches onto a square piece of cloth. It was late fall, and the morning sun was slanting in through the windows of the second floor classroom where a row of sewing machines sat. Dust particles floated through the beams of light, stirred by the cutting of fabric and the whirring of thread. After getting over the practical issue I had with the situation (why were we all learning how to thread a sewing machine, when most of us didn't have sewing machines?) I made the most of it, managing to thread my machine and create the simple stitches required for the lesson. (And since I ended up with a sewing machine, I guess it worked out after all.) Unlike crocheting though, I didn't end up loving the process of sewing, so I never bothered to learn more than the straight line required for curtains and the like. So far, it's been enough to carry us through.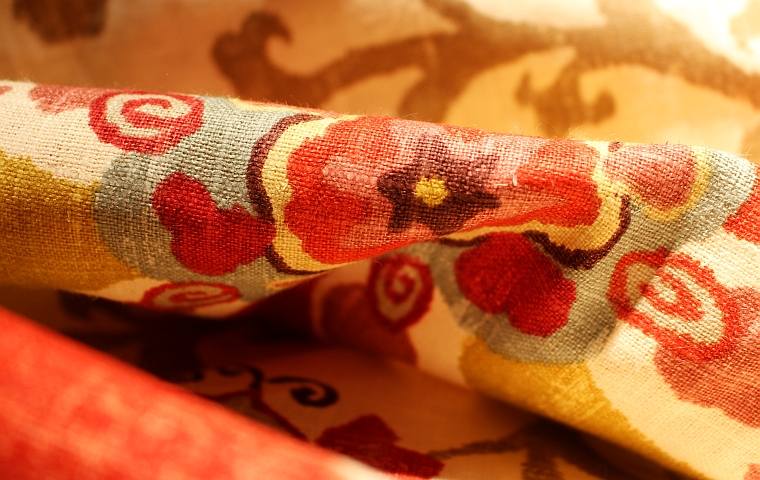 As for the fabric of the curtains, it was chosen on a bit of a whim. I went into the fabric store with no clear idea of what I wanted (always a dangerous thing to do, considering a recent tile selection incident) but this particular pattern – the bold colors and whimsical design – was one of those things I instantly loved. Of course red was not in the palette for the kitchen/dining room area, so there was a good chance it would never work. Upon closer examination, however, I noticed the bit of green that looked like a match to the shade of the kitchen and dining room walls. A tan color running through it might be the same hue of the recently-hung lampshade. Upon securing a sample and having Andy hold it up in the dining room, it was perfect – just the punch of non-traditional pizzazz that the space needed (since I gave up the vibrant white cabinets I originally wanted).
One more step – and one of the last – in the march towards a new kitchen.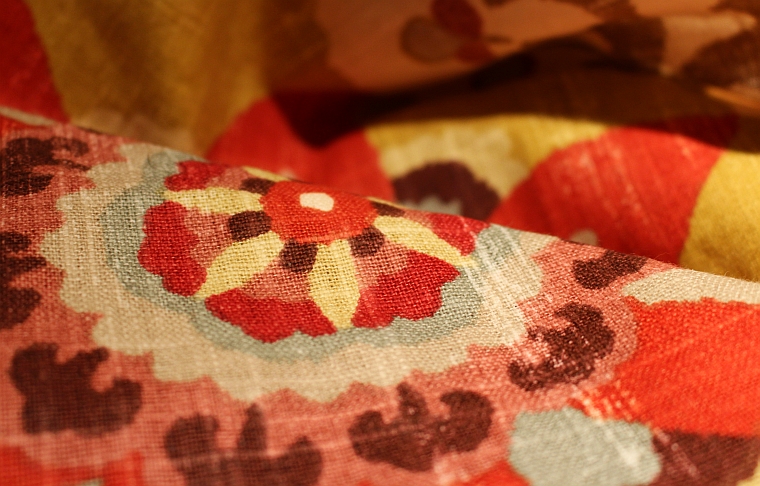 Back to Blog