I've known since the first day of this kitchen renovation that we had the best contractors in the business, but that was confirmed when I turned on the television and let 'Renovation Realities' on HGTV run through a few episodes. The premise of the show is that a husband and wife (no husband and husband, or wife and wife just yet) tackle a home improvement project (usually a kitchen or a living room) and go through the trials and tribulations of non-experts attempting jobs only an expert should be executing. After another hapless couple failed to figure out how to open the plastic packaging of a tape measure (come on), I breathed a sigh of relief that we had the expertise, know-how, and execution of Skylands Services. I cannot expound upon their virtues enough.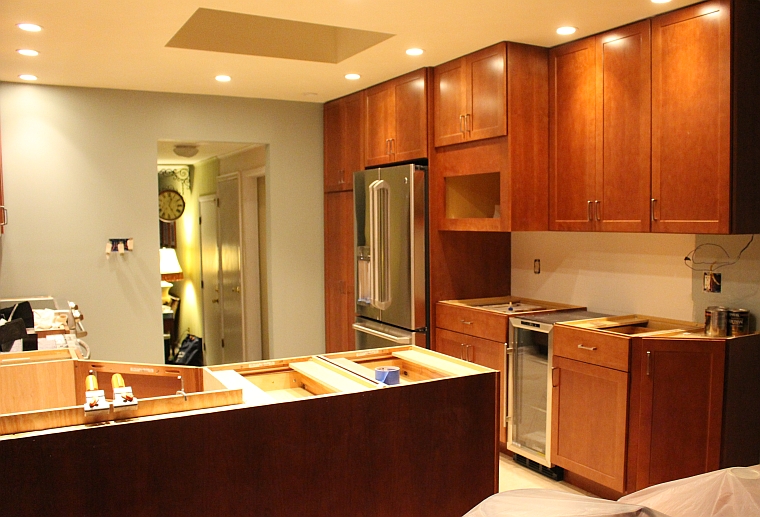 If you look closely, you'll see that the kitchen is filling up. Yes, that's the refrigerator! And the beverage center! And the oven!! Do you know how excited that makes us? You can't know, because you're probably able to get something out of the fridge or pop something into the oven right now if you so desire. We almost didn't have these valuable items for this frigid weekend, thanks to a delivery issue at Lowes, but Andy got on the phone and called in another truck to make the delivery happen. It was later than originally scheduled, but the guys at Skylands rallied and installed them so we could at least survive until Monday.
In addition to protecting us from what we didn't know, (their advice to not pay in full for items not yet delivered proved invaluable) they also offered sound and creative solutions to problems and design questions, while taking into consideration our wishes and whims (and we all know how whimsical some of us can be). More than that, though, it was their unfailing attitude in the face of any setbacks, and an indefatigable can-do spirit that lifted both Andy and myself every morning (often showing up and starting the job before we were even out of bed). That's the kind of finishing touch that makes a contractor go from merely competent to practically perfect.
Back to Blog