Off the beaten path, with only a small sign to notify passers-by, the Ogunquit Heritage Museum is one of the better-kept secrets of this town. We happened upon it last year, taking a circuitous route home one day, and it beckoned to us through a line of oaks and maples. Hidden away, it doesn't shout, or even announce, its presence so much as it waits in secret quiet. Though the hours it is open are scant (and I've never managed to find myself there when the museum itself was welcoming visitors), it's the garden path that lies before it that is the main draw for me.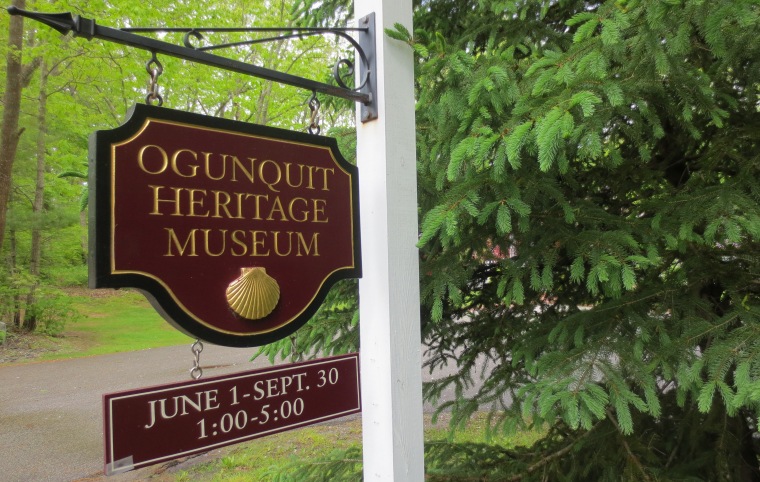 The Road Not Taken
Two roads diverged in a yellow wood,
And sorry I could not travel both
And be one traveler, long I stood
And looked down one as far as I could
To where it bent in the undergrowth;
Then took the other, as just as fair,
And having perhaps the better claim
Because it was grassy and wanted wear,
Though as for that the passing there
Had worn them really about the same,
And both that morning equally lay
In leaves no step had trodden black.
Oh, I kept the first for another day!
Yet knowing how way leads on to way
I doubted if I should ever come back.
I shall be telling this with a sigh
Somewhere ages and ages hence:
Two roads diverged in a wood, and I,
I took the one less traveled by,
And that has made all the difference.
 ~ Robert Frost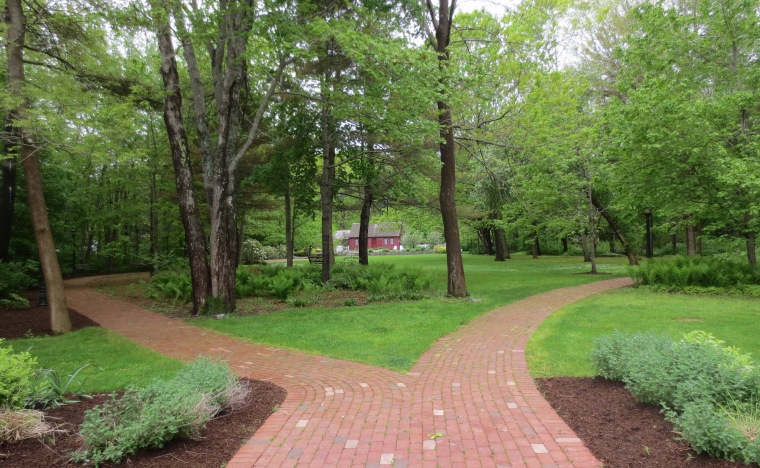 In a town crowded with the first flush of tourists, this is one spot where it is common to find sweet delicious solitude at any given time. It is also brimming with seemingly-forgotten woodland plants, rare finds like white bleeding hearts and great swaths of Trillium just past their peak. An unidentifiable yellow plant shakes its wet blooms free from the rain, its canopy of leaves protecting its pendulous hairy seed pods.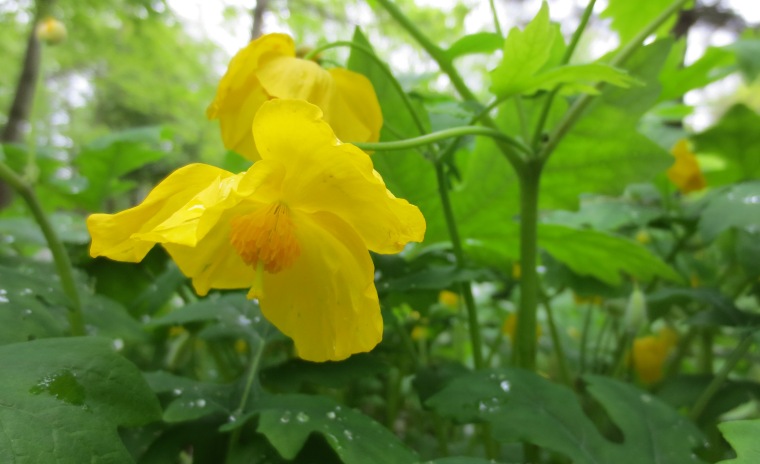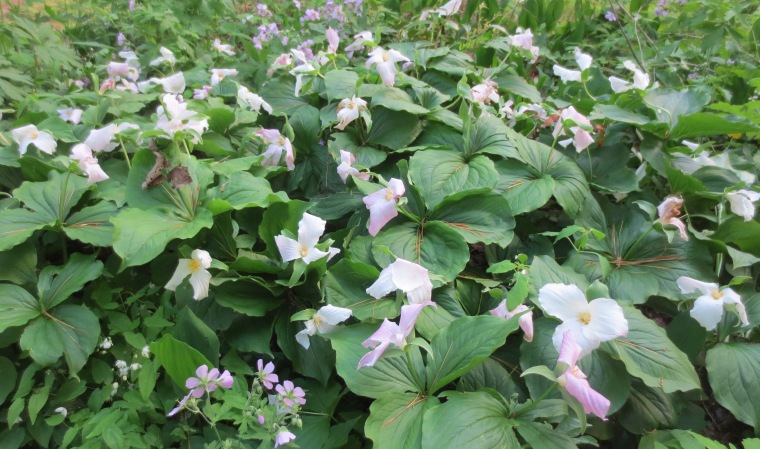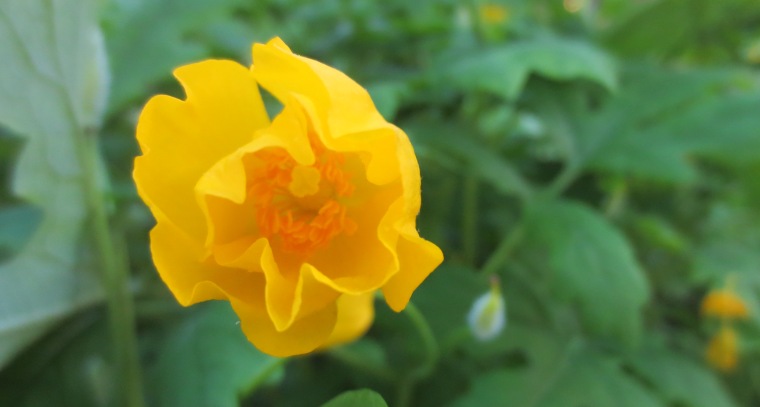 The path leads in a rough circle from the small red museum building out through the wooded area, then back to the small rise of steps leading into the building, framed by lilacs in full, fragrant bloom. On this visit, I am alone. Andy is resting back in the guesthouse.
Sitting on a bench beside the stand of faded Trillium, I am taken back to a snippet of memory I'm not even sure is mine. It is a glimpse of the spring forest in Vermont, near a covered wooden bridge. A red Wake Robin nods its crimson head in the breeze, a few feet away from the road and buffered by the trees. Then it is gone. The flower. The memory. The sunlight.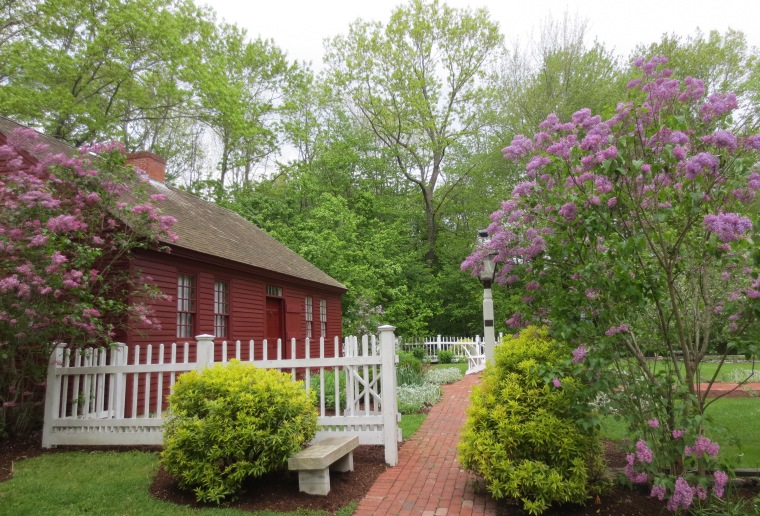 I never quite manage to share the sublime with anyone.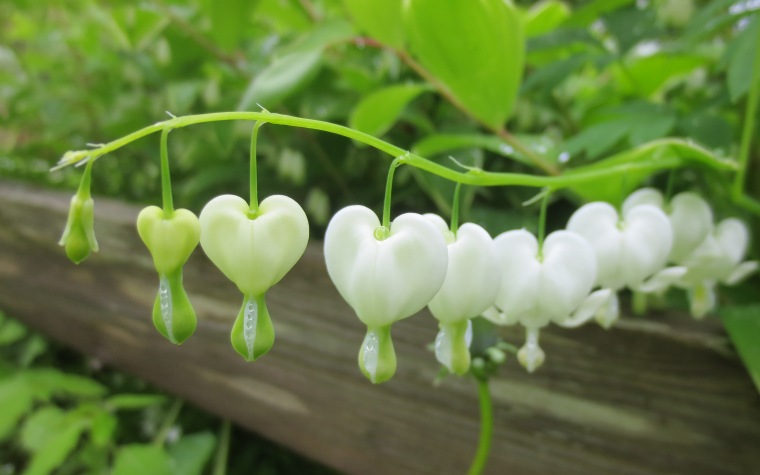 Back to Blog