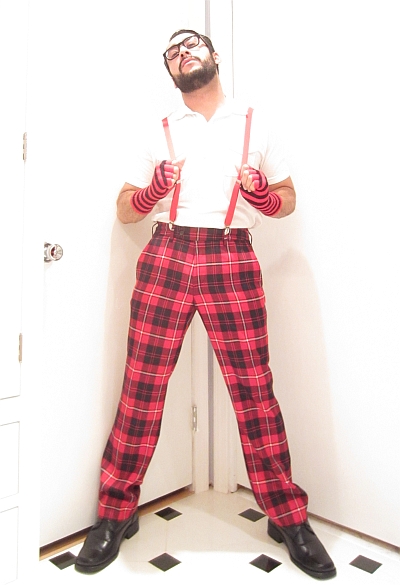 After being derailed from a couple of holiday parties by a pesky cough, I was back in ridiculously-red-plaid form for Rob's annual fete last night. Andy and I stopped by the bar at Jack's Oyster House for a proper martini, where we had the pleasure of meeting the man behind Fussy Little Blog in person. Daniel is indeed fussy regarding his cocktails, but in the best possible way, and I love when someone I met online turns out to be more affable and friendly than you expect.
I've always had luck and great experiences meeting bloggers and online aquaintances, and this proved no exception. Of course, I don't meet people I haven't corresponded with or researched, so it's not like they're total strangers. Still, one never knows how someone will be in real life, so it's always a reassuring moment when the idea of a person matches the reality, and sometimes exceeds it. Daniel was as articulate and enthralling as his blog and tweets would lead one to believe, but funny and friendly as well – which, as we all know, doesn't translate as readily to the written online world.
I also got to shake hands with Steve Barnes of Table Hopping blog fame (and a fabulous writer/critic in Times Union print form as well). Writers are my heroes. Like Daniel, Steve has the envy-inducing luck to be better-looking in person than in photos.
When cocktail time was done, we went a few streets over to Rob's, where I got to see friends I've now known for over eleven years one last time before Christmas. It is one of the greatest, and rarest, treats for me to walk into a room and know almost everyone by name, and it's one of life's most warming comforts. This is the best part of the holiday season.
PS – I'm totally wearing those pants to work this week. Watch me.
Back to Blog