SOME SAY LOVE, IT IS A RIVER THAT DROWNS THE TENDER REED
SOME SAY LOVE, IT IS A RAZOR THAT LEADS YOUR HEART TO BLEED
SOME SAY LOVE, IT IS A HUNGER, AN ENDLESS ACHING NEED
I SAY LOVE, IT IS A FLOWER AND YOU ITS ONLY SEED.
It was one of the first songs I learned on the piano, and to this day I can still play the opening chords and melody. A hit for Bette Midler before I was old enough to walk, 'The Rose' is one of those classics that has endured thanks to its timeless lyrics and beautiful balladry. For me, it conjures memories of my grandmother.
Whenever she'd visit, she would request that I play it for her, and she'd sit and listen in rapt fashion as only a grandmother could. Occasionally, as was her disturbing way, she'd mention that she would like me to play it at her funeral. A macabre and rather unsettling notion for a kid to contemplate, and when she did pass away, years later, I was in no condition to play 'The Rose' on the piano even if I wanted to. Still, there was something beautiful to what we shared as she bravely challenged her mortality and I vainly sought to put the idea from my head.
In many ways, my grandmother was a timid woman. Afraid of the world and often afraid of people, especially those she didn't know, she taught me caution and quiet. She relied on and deferred to my grandfather while he was alive. He died before I was born, so I never saw her interaction with him, and by the time I was old enough to notice such things, she was more of a widow than anyone I've met since. I knew that she'd gone to work in a factory during the war, and I knew that such an act wasn't for the meek or quiet, so I assumed she kept her strength and power hidden away. Of course she never had to show it to us children: as grandmother she doted on and adored us no matter how we might misbehave or push our bedtime back.
IT'S THE HEART AFRAID OF BREAKING THAT NEVER LEARNS TO DANCE
IT'S THE DREAM AFRAID OF WAKING THAT NEVER TAKES THE CHANCE
IT'S THE ONE WHO WON'T BE TAKEN WHO CANNOT LEARN TO GIVE
AND THE SOUL AFRAID OF DYING THAT NEVER LEARNS TO LIVE.
For all her apparent meekness, she still held a certain sparkle and pizzazz, particularly when in comparison to the staid and strict way my parents behaved and expected us to behave. My grandmother was the one who taught me how to make a fashion statement, whether in a string of crystal rosary beads, or a glittering clip-on costume earring. She would wear sequins on her scarf, and carry handbags dripping with beaded tassels. Conservative in almost every other aspect, particularly in the leather-bound chignon that kept her hair ever-pulled away from her face, she showed her spark with her jewelry. I learned the power of a statement piece, and when we got to visit her home in Hoosick Falls I had hours of fun in her jewelry boxes. In that way, my grandmother lived in my imagination.
She would tell my brother and I stories of Greta Garbo, and how she was the greatest star in the world and then simply disappeared. The mystique she described lent her an air of mystery and magic too, and we begged her to trot out those Garbo stories at every bedtime. Try as I might, however, I could never place my grandmother among the youth from a former era. I desperately wanted to picture her laughing and sipping at her favored glass of beer ("with a good head on it" as she used to say), but I couldn't reconcile the kind elderly woman who tucked us in with someone who would kick her heels up on a table and smile for the camera. Yet I know it happened. I've seen the picture.
WHEN THE NIGHT HAS BEEN TOO LONELY AND THE ROAD HAS BEEN TOO LONG
AND YOU THINK THAT LOVE IS ONLY FOR THE LUCKY AND THE STRONG
JUST REMEMBER IN THE WINTER FAR BENEATH THE BITTER SNOW
LIES THE SEED THAT WITH THE SUN'S LOVE IN THE SPRING BECOMES THE ROSE.
As she grew older and more feeble, as she lost her senses and her memory, she receded into the childlike innocence of old age. Shrinking into a tiny woman, she moved further and further from those youthful days of boundless energy and bold, shiny bracelets. The hesitancy and shyness that marked the bulk of her adulthood dissipated, and in rare instances she would get a glint in her eye of remembrance and fire. I wondered if she wished she had let loose more, or if she realized she had lived just enough. Whenever I have a moment of doubt before a moment of indulgence, I often think of my grandmother. She would have thrilled at this necklace, she would have run her hands appreciatingly over this scarf, she would have approved of these fancy shoes. She would have gotten dolled up and turned it out, just for a trip to church. She would have put on the pizzazz and sparkled, just for a moment, and she would have smiled like a beneficent queen. I learned that from her too.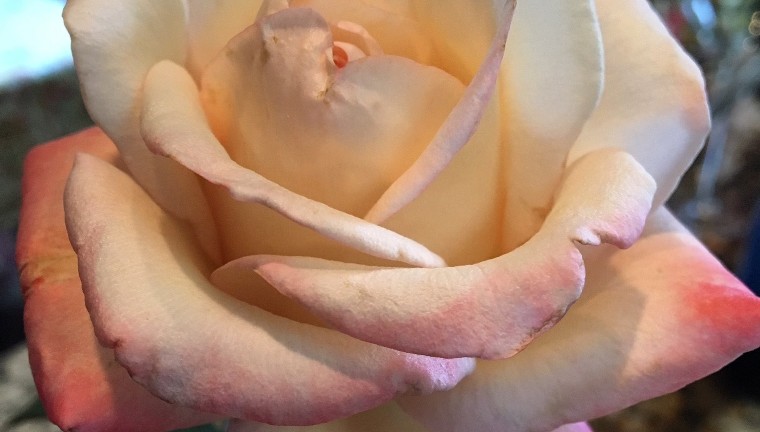 Back to Blog