A few years ago I found the recipe for this – called a Sun cocktail – in the Style Section of the New York Times. Since then, it has become a summer staple – for its refreshing seasonal charm and ease of assembly. It's a grapefruit-based concoction that gets some of its sparkle from the addition of a dry sparkling white wine.
The original recipe is buried somewhere in my files, but I usually just wing it because with the ingredients involved it's tough to wreck it irreparably. Here's a rough estimate of what goes into it:

Sun Cocktail
3 parts pink grapefruit juice
1 part citrus vodka
1/2 part blackberry Schnapps
1 part dry sparkling white wine
You can adjust the proportions to suit your own taste. Combine all ingredients in a large pitcher, add a decent helping of ice, and stir. Garnish the drink with fresh blackberries or grapefruit slices.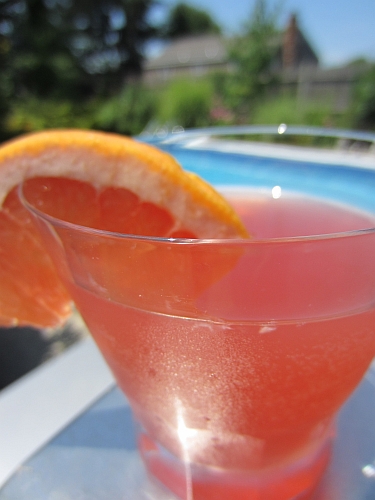 11suncocktail2
Back to Blog