Sitting on the bank of the Charles River, I am watching the runners and bicyclists go by. It is a sunny summer Saturday – and my journey in Boston continues. The morning was spent strolling through the Public Garden and lazily perusing the shops along Charles Street – and though it's a tax-free weekend I have not yet made any purchases. I ended up here again, after crossing the walkway to the Charles River – a stop I seem to make once a year.
When I lived in Boston full-time I didn't frequent this area as much as I should have. Partly because it was off the beaten-path, partly because I never thought to visit, and partly because of its connotations to the first man I ever kissed. Yet invariably, I find myself back here, always at this time of the year, always as the summer days wane. It is the path that we took after our eyes first met in Copley Square – the walk back to his place in Beacon Hill. Today it is the portal to my past, to that fateful day seventeen years ago, when my nineteen-year-old self met a thirty-six-year old man, and everything changed.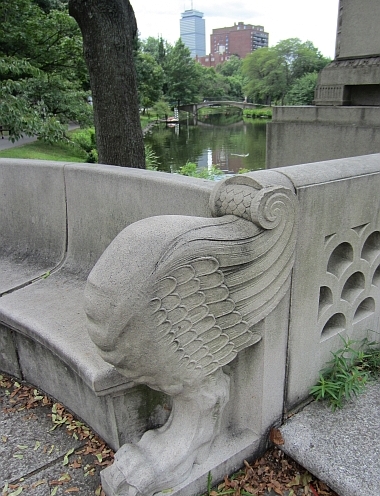 Now, all these years later, I am about to turn thirty-six. The same age of that first man in my life, the one who set me on a trajectory that has repercussions to this day. And while we are in such very different positions, I wonder what my life would be like if I weren't married, if I didn't have a home, if I lived in a tiny apartment in Beacon Hill and picked up a boy half my age. Would I be able to do what he did to me?
Shirtless men run along the path before me, sweaty and sunburned, their eyes fixed in the distance. Pony-tailed women pass swiftly by. A bi-racial couple and their two sons walk as a chattering group, simply seeming to enjoy one another's company. The father puts his hand on the older son's back, and the gesture is easy and natural. I wonder if I ever brought that kind of joy to my parents, or if I was too different.
We are so needlessly tormented.
A man walks by and he has no arms. The empty shirtsleeves hang limply at his sides like folded wings. A jogger passes him, arms swinging strongly, giving him weight and balance, and, it seems cruel to say, purpose.
It is time to leave this place. Whatever I was looking for cannot be found here… it is somewhere else. The trail continues…
Back to Blog