Before we batten down the hatches and close the windows for the season, I like to give the Boston condo a good airing-out. I'd have burned some sage if we had any, but this would have to do for now as the day was too perfect to wait (a windy but not too terribly cold day is ideal). Upon opening the front and back windows, a strong breeze blew through the entire place. Curtains billowed in the moving air, and candles fluttered as the day slowly turned darker. It was dramatic weather, fitting for fall and change. Kira and I sat at the table as our wine breathed, taking a breather ourselves after a morning of hustling and bustling. We tentatively planned some upcoming dates for a belated birthday celebration and our annual holiday stroll, and there was something very cozy about the condo as the wind rushed through it – the juxtaposition of the cool air and the candles, the outside and the inside, the recent memory of summer and the future planning for winter.
The wind was strong, and we moved into the bedroom to watch a bit of 'Practical Magic' for seasonal appropriateness. Kira was chilled, so we pulled out the heavy winter blanket and lit a few more candles. Turning the seasonal page from white to red wine, we sipped to warm our stomachs, while Nicole Kidman and Sandra Bullock got all witchy. Soon it was time for dinner, but neither of us was in the mood to walk very far. Flirting with the wind from the safe haven of the condo was one thing; whoring through it unprotected was quite another. I proposed heading to the corner market and coming up with a simple puttanesca, along with some cheese and fruit.
We hurried along the darkened streets, over wet leaves and fallen branches as the wind whipped around us. Apples and pears and crackers made for an opening salvo, while pasta, anchovies, garlic, olives, roasted red peppers and fresh parsley would suffice for the puttanesca. Back at the condo, the kitchen warmed to the boiling pasta water and simmering sauce. Kira was amazed at my culinary abilities. Twenty years ago I could barely make toast, now here I was winging a simple (albeit rough) pasta dish. Like its namesake, a puttanesca is very forgiving.
We sat down to eat as the wind continued to howl. It would go like that all night, and I lowered the windows until they were almost completely closed. Food and friendship mingled with darkness and candlelight. It's always cozy in the condo during the colder months.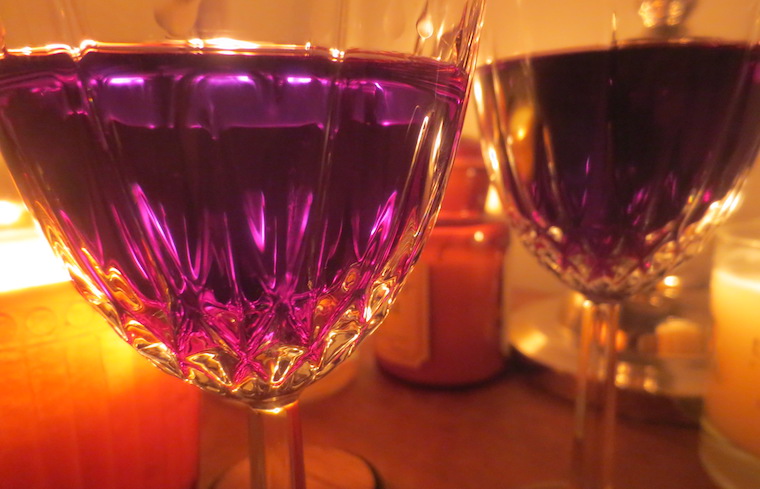 Back to Blog