It's usually the people who do what I could never do that impress me the most, particularly when it comes to artists. Painters and sculptors especially – those gifted folks who can conjure a thing of beauty or fascination with their minds and hands and raw materials – they never fail to fill me with awe and admiration. Taking a blank canvas and creating a world where none existed is the province of heavenly work. If ever I doubt the existence of something greater at hand here, a work of art always calms my soul, and restores my faith.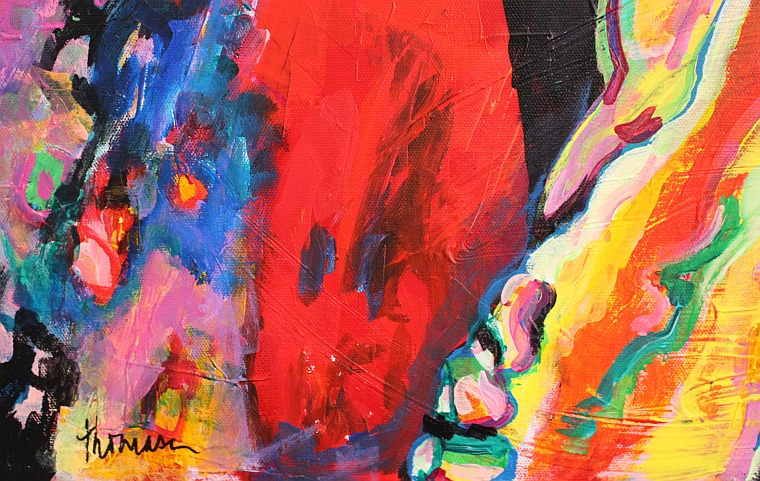 The first time I met Thomasa Nielsen was, fittingly, at a First Friday event in Albany. She was talking about a painting with such animation and excitement that I knew she was an artist. A few weeks later I saw some of her work at the Upstate Artists Guild and was blown away. There was passion and power in her pieces ~ in some a whimsical thread of playfulness, in others an underlying pull of melancholy. These aren't quiet paintings – they yell and scream in joy and sorrow, in pain and humor. They laugh loudly, weep openly, and cry out in passion. They are, at their cores, the visual heart of an artist, laid boldly before you.
She is perhaps best-known for her exaggerated scale and dramatic use of color – both of which initially drew me to her work. (I was lucky enough to be managing the Romaine Brooks Gallery when she had a solo exhibition there – and the riot of color and excitement on the walls made it one of my favorite shows ever.)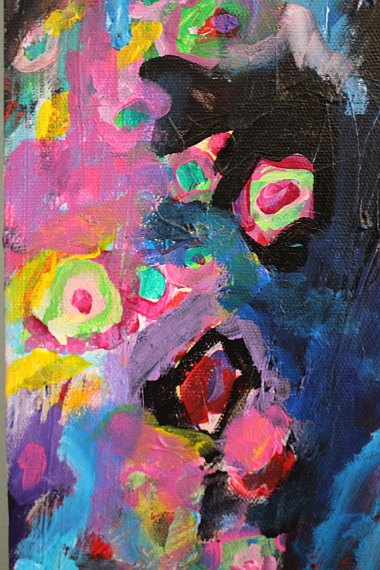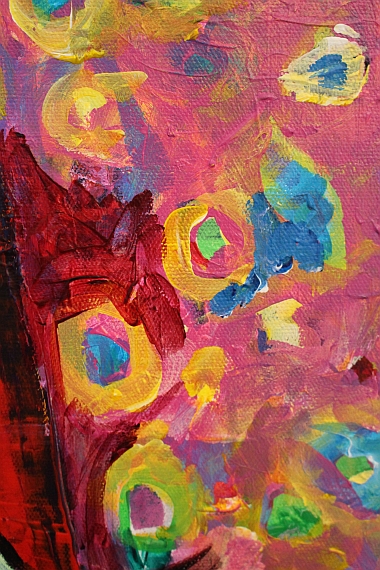 It's sometimes a risky move to put your image in the hands of an artist, especially if you're already insecure. You have no control over what might be conjured or created, and when the idea of being the subject of one of her paintings first came up, I was hesitant. What if I look ugly? What if my body isn't good enough? What if everyone laughs at me? But Thomasa is a very captivating woman. Yet in all honesty it wasn't her charm or persuasiveness – or even her kindness – that convinced me: it was her work. That gorgeous saturation of color, those brilliantly jarring juxtapositions of darkness and light, the challenging distortions of scale ~ I wanted to be a part of that. And so it was with great honor, and nervous humility, that I agreed to be a subject.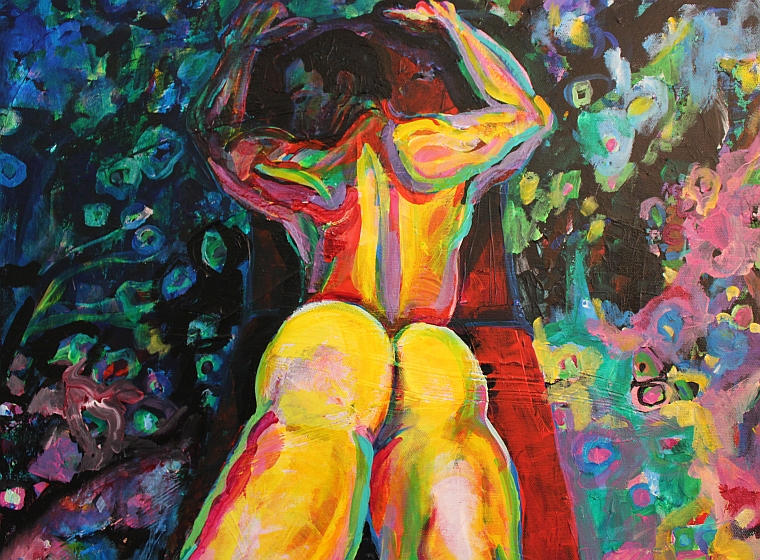 She asked me my favorite colors and color combinations, what inspired me, and how I would describe myself. I sent her a list of inspirational items that I thought might be helpful, as well as a CD of some of my favorite songs to give her an idea of what informed my world. Taking that, and a few photographs I sent her, she crafted this amazing painting. In it, she captures things I never noticed before, deeply personal things that I won't expound upon here. A good artist can capture the essence of a person, a great one sees through to their very soul.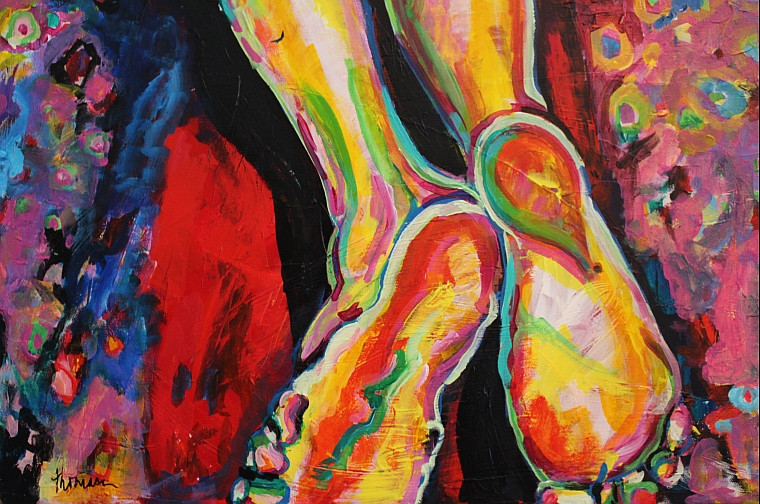 The piece is hung in the most prominent space of our dining room – on a wall that can now be seen from the kitchen and beyond – and it always tickles me that guests, when sitting down to eat, have an unobstructed view of my colorful ass. I'm not sure if that makes the food taste better or worse, but I enjoy the awkwardness of it.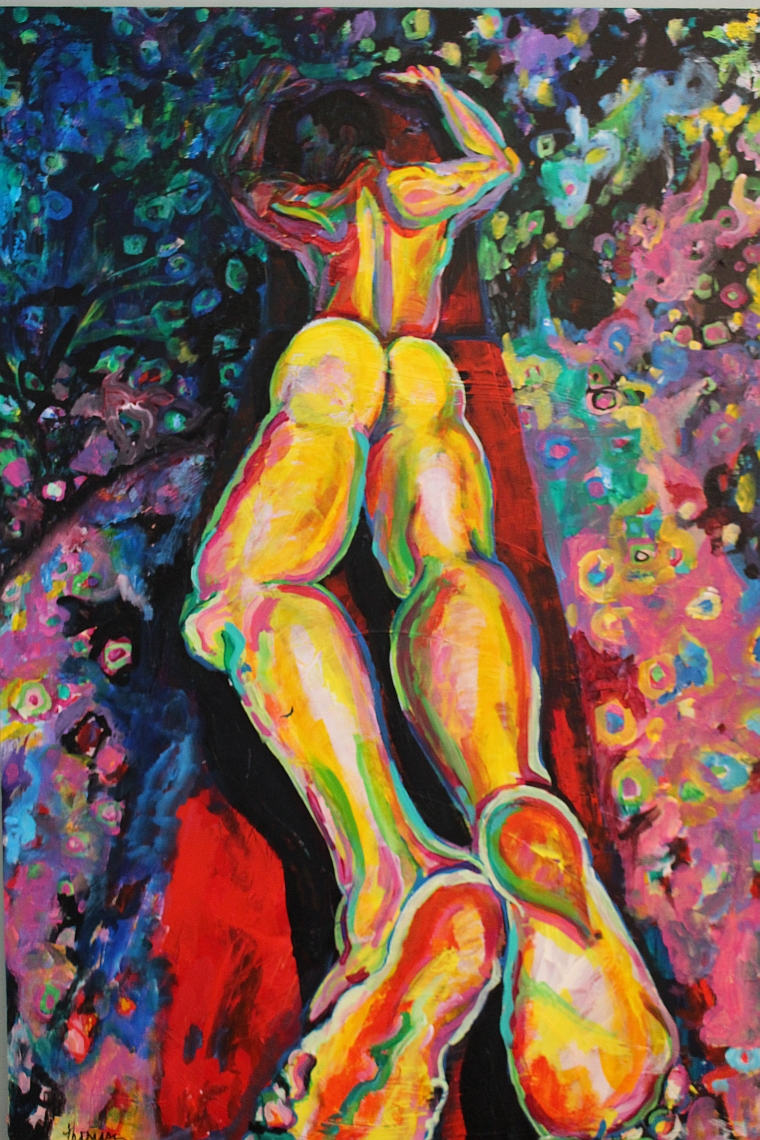 In truth, it's a beautiful piece in spite of my butt being front and center – the colors work marvelously in the space, brightening up the wall and adding a vital jolt of vibrancy to that formerly-staid room. The transitional shading fits brilliantly into its placement – there is a window to the right of the painting, which is where the light is coming from in the scene. What I like most is that the beauty of the composition, the way the colors complement and collide, makes one forget the subject matter completely. Only when someone is seeing it for the first time and remarking on it do I remember that it's a naked butt on the dining room wall. That's what a great work of art does – it mesmerizes with its beauty in such an absolute sense that all else fades away. Even my ass.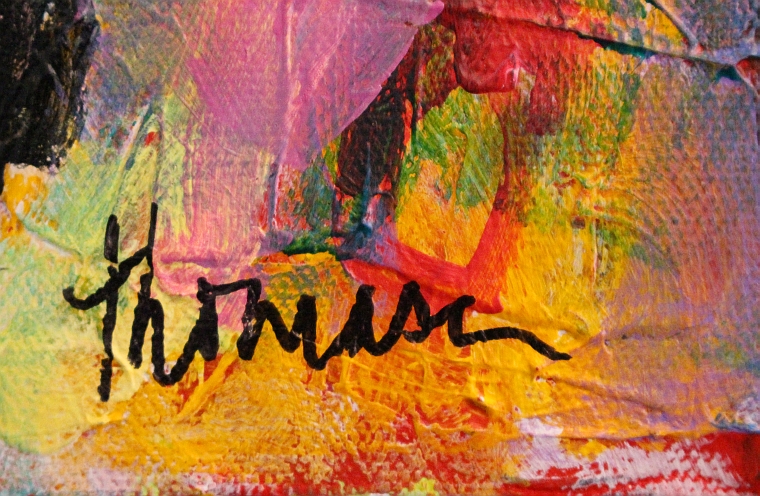 Back to Blog