{Up until today, there has never been anyone, or anything, other than a human being operating these posts. Now, for the first time in the twelve-year history of this website, a post has been written by a cat. Meet Millie. She's a pussy. A very wise, wonderful pussy, with intuition beyond her assumed scope. We follow each other on Twitter – she is the only animal I currently follow (there was a brief time when I followed a bear on the loose in upstate New York). Millie has some sassy sofa smarts, along with a surprisingly sharp take on humanity for a cat. This practically-purrfect entry is further proof of the power of the pussy.}
A Pussy Expands Her Sphere of Influence
By Millie the Cat
My name is Millie, and I ponder life as I snooze on the sofa or sprawl out in a sunny spot on the floor—something all too rare in Seattle. Between naps, which for me are delightfully frequent, I think about how to best live my life and appreciate each moment. Being a housecat, a rather pampered one I might add, allows me the time to do this. Having spent my early years on the streets, I understand how fortunate I am to live in a high-rise home with every amenity a feline could meow for—except snacks and treats. I need more of those. Humans, are you reading this?
When I am alert enough to think about my life, I consider the realm in which I live and the sphere of influence I have over it. Developing and maintaining this influence heightens my contentedness and quality of living. I am expert at this. I focus my efforts on the actions, communications, and possessions necessary for my comfort and happiness.
Actions
The first action I take is to nap. Often. Being drowsy throughout the day and collapsing on sofas, pillows, and cozy blankets guarantees a low-stress existence. While the silly humans pay bills and do dishes and rotate laundry, I sprawl out and snooze. My coziness extends outward like a bubble, and sometimes the humans notice this and take a moment to pet me. They relax, and my influence over them is strengthened.
Just when the humans have been soothed, I freak out. No, I don't claw or bite—I'm no silly adolescent! I run. I jump over the sofa, disturbing cushions. I shred my catnip carrot. I run down the hall so fast my pads squeak on the floor. I make sure my back is arched, tail in the air. The humans ask, "Why?" They are puzzled, wanting to know more. They are in my power.
Sometimes human guests come over. These intruders are unwelcome, as they take away from the attention I demand from my resident humans. This situation requires drastic action. At dinner parties, right when everyone sits down at the table, I go to the cat box. I knock around loudly, using my skills as a percussionist to remind the humans of my existence. If this does not work, I release toxic logs. I do not bury them. No, Alan, there is no Tom Ford cat box spray to save the day. The humans come running, and I am happy knowing I have maintained my sphere of influence over my world. Except occasionally there is an overnight guest. This is unacceptable since I lose the guest room to an indifferent human. To reestablish influence over my high-rise world, I do the ultimate act: I let loose a spray of urine on the guest bed. Nothing gets the humans moving faster than perfectly timed water sports, right, Alan?
Communications
Drastic actions are thankfully rare, as most of the time I maintain my sphere of influence through frequent communication. I talk. Lots. MEOW. I talk about being petted. I chat about breakfast. If I am not being heard, I position myself in the center of the room and yowl. A deep, haunting, mournful yowl. I am not mournful. I am drowsy. But I do want the humans to acknowledge my existence at all times. Some humans wear bright clothing for this purpose. I dislike the confinement of attire (as do you, apparently, Alan), so instead I yowl. Sometimes I meow loudly in an empty room, adjacent to the humans. They hear me and notice my presence. I am powerful. On other occasions I take a subtle approach, communicating by purring (I can purr and eat at the same time, without choking. Try that, silly opposable-thumb creatures). I head-butt the human who pets me most, telling him it's time to stop grading papers and focus on ME. I block the path of the human who feeds me most often, making him step around or over me as he enters the kitchen. This increases my chance of extra snacks. I love snacks. Altogether, my communications are considerable for a nine-pound cat. I make my voice heard.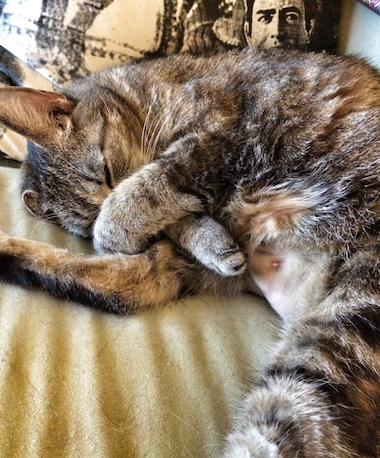 Possessions
I have few possessions, but the ones I have I cherish, as they make my life luxurious. My sphere of influence must emphasize luxury. Nobody wants to live at IKEA or PetSmart. Dining is important. I make sure I am served dinner in a proper rice bowl, hand made in Japan. Would I eat Fancy Feast out of a plastic dish? Unacceptable. I drink filtered water from a tall glass, preferring to sit upright while I sip rather than crouching low to the floor like a feral beast. Perhaps Alan would suggest a martini glass with a lavender sprig. I will consider this option.
Furniture is an important possession for a cat. This is where I live. The sofa is my primary residence, though I am also Queen of the Ottoman Empire. I enjoy all three ottomans in different rooms, spending time on each, napping drowsily. These possessions add to my quality of life. As do pillows. I prefer Thai silk pillows, though the feeding human recently went on a shopping spree online and bought cheaper ones. I eschew them, though I may use one as a hairball receptacle. Not ladylike? Try washing yourself with your own tongue, silly humans, and get back to me. GACK.
Toy mice are crucial to all aspects of my sphere of influence: possession, communication, and action. My many mice are distributed throughout the home, reminding the humans of my power. On the sofa, bed, carpet, and floor, these are signals that the world is my playground. This profusion of rodentia communicates to the humans that I live in a world of leisure. I play with my mice randomly and unpredictably. I wake from a nap and suddenly paw a mouse, scooting it across the floor with gusto. I fling it into the air by its tail. I have even been known to skin a mouse and play with its plastic entrails—a slight disappointment, but much less messy than the real thing.
In my life, I don't spend time being disappointed or sad or stressed. Why bother? Instead I extend my pussy sphere of influence over the world around me, napping and purring, snacking, and meowing my way through life—with the occasional random bath to keep things fresh and real. And I never have to put on underwear. Keep that in mind, Mr. Ilagan.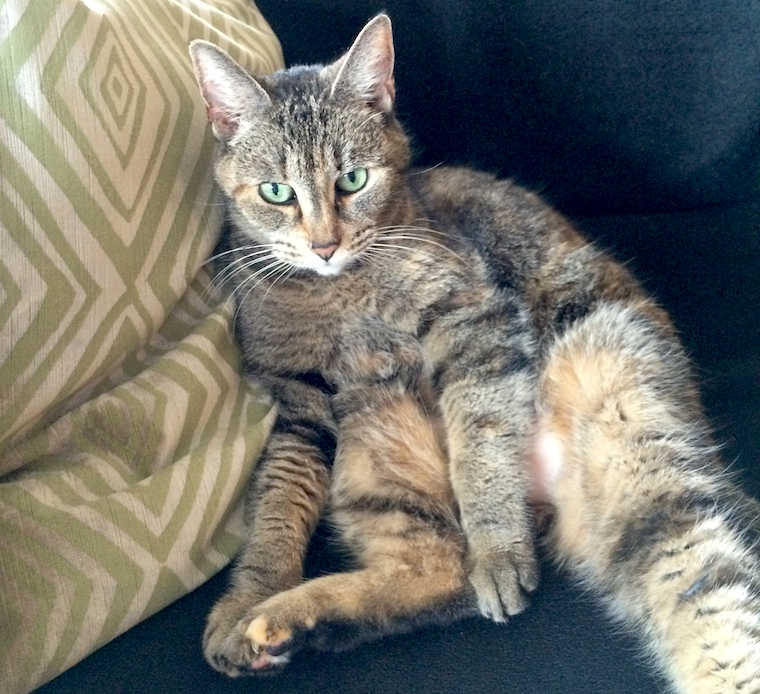 Back to Blog