Long before Tom Daley slipped into a Speedo or Matthew Mitcham smuggled his budgie  into his budgie-smuggler, Greg Louganis was modeling sexy swimwear and winning gold medals right and left. We didn't know until years later the other facets of his personality that went hiding in those dangerous days when being gay meant the death of a career, particularly in sports. Today we honor Greg Louganis in supercilious fashion as Hunk of the Day, but this is one that has a little more meaning and depth behind it.
While I vaguely recall Mr. Louganis and his dramatic head-shattering diving board smash at the 1988 Olympics (after which he won another gold medal), it was his autobiography 'Breaking the Surface' which would make me a forever fan. At the time, I was just coming to terms with my own sexuality, and reading about his early struggle with his own coming out made my journey a little less lonely. His words, and his story, gave me a starting point for something better.
He paved the way for fellow divers like Tom Daley and Matthew Mitcham to do what they do without the crushing albatross of sexuality hanging over them. Clearly, they too had their moments of conflict and angst, but they're still diving, they're openly gay, and their futures are bright and unlimited.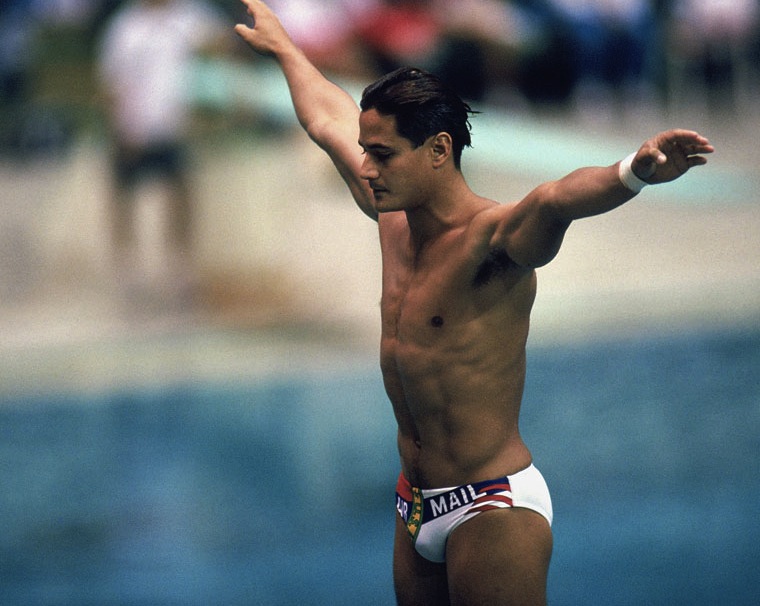 I remember when I came out (in a very public Letter to the Editor of the local newspaper) my parents were adamantly opposed to me saying anything. My Dad even went so far as to remind me that I wasn't Ellen (DeGeneres, who had come out a few months prior) and that I wasn't famous and I didn't need to announce it to the world. My Mom's more silent and insidious disapproval said more than any feeble words of support that never came ever could. They couldn't have been more wrong. It was precisely because I wasn't famous or special that the world needed to see it. We all needed to see that. I needed to see that. More than anything else I needed to know that I was not alone. As much as my parents wanted me to keep silent, I knew I couldn't. Somewhere a frightened and lonely boy or girl might read my letter and hang on for one more day. Sometimes that's all it takes.
Mr. Louganis showed me how far we had come, and how far we still had to go. His story was part of the fabric that wove the world together, not only for gay and lesbian athletes, but for any gay person still searching for a way to come out. Far more than that, he showed me that a belief in oneself, when even those closest to you don't have any faith, can see you through the darkest times.
Two decades later, Mr. Louganis is still going strong, providing inspiration and trailblazing his way to a gold-medal finish in the history of us.
When you're a kid growing up, and you think you're gay, you know that you're different; you're often teased and it can really destroy your self-esteem. But sports can be great for building self-esteem. ~ Greg Louganis
Back to Blog